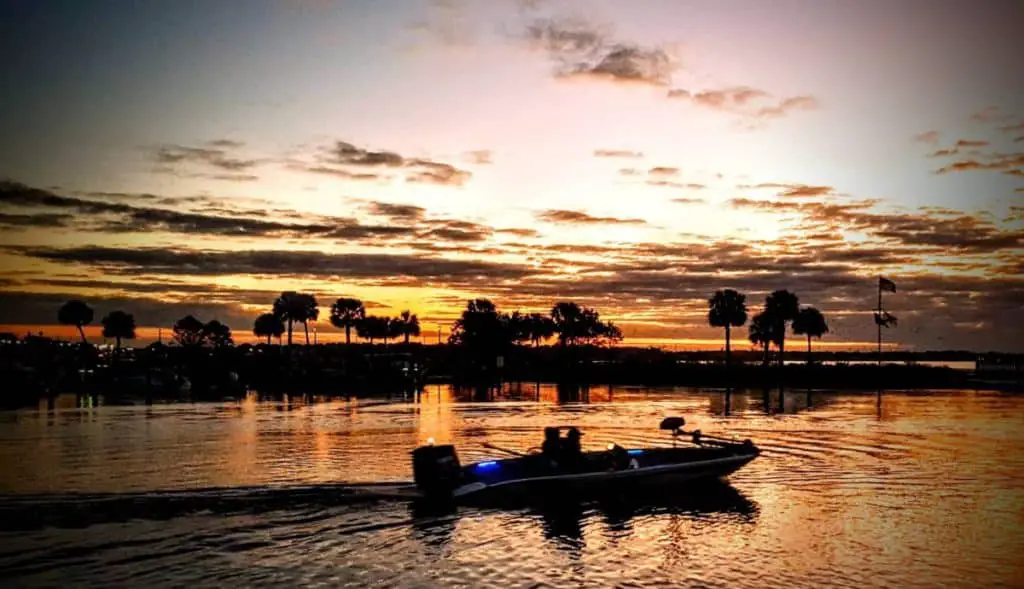 Trying to decide if buying a bass boat is the right move? If so, you're likely at a point in your fishing life where you're looking to "up your game" by upgrading your current boat or purchasing your first bass boat.
Bass boats are worth the money because they are specifically designed and configured to offer a better platform for fishing. Bass boats are equipped with specific functionalities, including bigger fishing decks, the right storage, and equipment like trolling motors, livewells, fishfinders, and more.  
With all of the fishing boats out there, it is essential to determine what you want in a boat and why certain features might be important to you and your fishing experience. Read on to review what separates bass boats from other traditional fishing boat options.
7 Reasons Why Bass Boats Are Worth the Money
1.       Bass Boats Have a Signature Flat Deck
Bass boats have a signature flat deck. Some boats have a wider beam than others, but the application still holds true. First, it is easy to move around on an even plane. Second, you have open space to cast at various angles, making it easier to hit your target. Third, the larger bass boat deck offers plenty of room for storing multiple rods on the deck for easy access when you want to change rods, baits, or tactics.   Finally, the large deck provides ample room for fishfinders and trolling motors. 
2.     Bass Boats Have a Low-Profile Hull
Bass boats are known for their low-profile hulls. The low-profile hull makes the bass boat more steady on the water than traditional hulls. Bass boat hulls are also designed to cut through wind and waves, making them a better option than deeper hull boats. In addition, because there is usually lower drag in a bass boat,  anglers may see better maneuverability and can generally navigate and fish shallow waters more easily.  
3.       Bass Boats Include Generous Storage
Significant storage is another unique and beneficial feature of bass boats. Bass fishing involves a lot of gear, all of which needs a home. These boats provide organized, purposeful storage for rods, bait, lures, and much more. Bass boats offer the right storage so you can enjoy a relaxed outing without the frustration of searching for needed gear, saving precious time with efficient use of space. 
4.       Livewells are an Integral Part of Bass Boats
A common feature of most bass boats is a livewell. The livewell keeps your bait and fish alive throughout your fishing day. You can be out for a short or long time and not worry about preserving the bait and resulting catch. Livewells come in different sizes and include a variety of functions, including aeration, timers, and other related fish-preserving tools, all critical to preserving your fish. 
5.      Bass Boats Include Powerful Outboard Motors
Most bass boats operate under the power of a higher horsepower two or 4-stroke outboard engine.   Bass boat motors are outboards (mounted on the outside) that maximize deck area, leaving more usable space for the angler. We don't always think of speed when we think of fishing; however, bass boats are known for their ability to go fast for a reason. For a great article by Bass Fishing Insider about the reasons for fast bass boats, check out, Why Are Bass Boats So Fast and How Fast Can They Go? 
6.      Trolling Motors Are "Required" for Bass Boats
A second motor synonymous with the bass boat is the trolling motor. Most bass boats come with one standard. If not, most anglers add one on immediately. A trolling motor is essential to bass anglers because they are ultra-quiet and provide the ability to slow down and fish an area thoroughly without the use of the big motor.
7.       Bass Boats are Easy to Transport And Store
Most bass boats fit on a standard-sized trailer. It is worth noting that bass boats can also be heavy along with the gas, gear, and trailer, so ensure your vehicle is rated for the total weight. Still, they are not as cumbersome as other boats and remain easier to transport. Because of their slender profile, you can fit your bass boat into a relatively small storage area.
How Much Do Bass Boats Cost?
There are a plethora of bass boats from which to choose. Whether standard or optional, there are also numerous features, including additional storage and seating, electronic enhancements, lighting, and a larger gas tank. The considerations that should drive your ultimate purchase are intended use, frequency of use, and the experience you want from your bass boat. (Source)
Example of Bass Boat Prices And Features
Under $20, 000
16' length
o   Aluminum or Fiberglass hull
o   Room for 1-2 people
o   20-gallon recirculating livewell
o   Several storage areas
o   Lower horsepower on the outboard motor = less speed
$20,000 – $30,000
18' length with an 89" beam
o   Aluminum or fiberglass hull
o   Room for four people
o   21-gallon livewell
o   Lots of storage
o   Outboard rated for a top speed of 45mph
o   Trolling motor with  50-80 lb thrust
o   May include a basic fish finder
$30,000 – $40,000
17' length with 90" beam
o   Aluminum or fiberglass
o   Room for four people
o   20-30 gallon livewell
o   Less storage than less expensive boats
o   Decent electronics and gauges, and softer seating
o   Trolling motor with 80-110 lb thrust
o   23-gallon fuel tank
$40,000-$50,000
17.9' length with 95" beam
o   Aluminum or fiberglass hull
o   Room for five people
o   28-gallon aerated livewell
o   Generous storage
o   4-stroke, 150 – 200 hp outboard
o   Bucket seating
$50,000 and up
o   Longer boat
o   Wider beam for improved stability and foam deck
o   Aluminum or fiberglass hull
o   More electronics come standard, like fish and depth finders, navigation, radio, gauges, and a larger screen
o   Larger livewell with separate bait cooler
o   Extra storage
o   More powerful engine at 200-300 hp or more
o   Gas tank that holds 45-64 gallons of fuel; for more time on the water and farther out
o   Creature comforts like drink holders, bucket seating, food and drink coolers, and lighting
How Much Do Bass Boats Cost? Sample Data
Keep in mind these examples are estimated guidelines. Because bass boats are highly customizable, the match-up of features and perceived value can vary greatly. When you comparison-shop, you will sometimes see power and speed garnering a heftier price tag over features like looks, comfort, and gadgets. Conversely, the opposite can be true as well.
 The Final Word On Bass Boat Purchases
For the dedicated bass angler, a bass boat is worth the money. The cost to you can vary greatly depending on factors like your budget, intended use, features, and boat condition. Remember that your perfect bass boat does not have to break the bank and will still be worth every penny. For an excellent read discussing the purchase of a new or used bass boat, check out Bass Fishing Insider's article, Should I Buy a New or Used Bass Boat? A Comparison Guide.