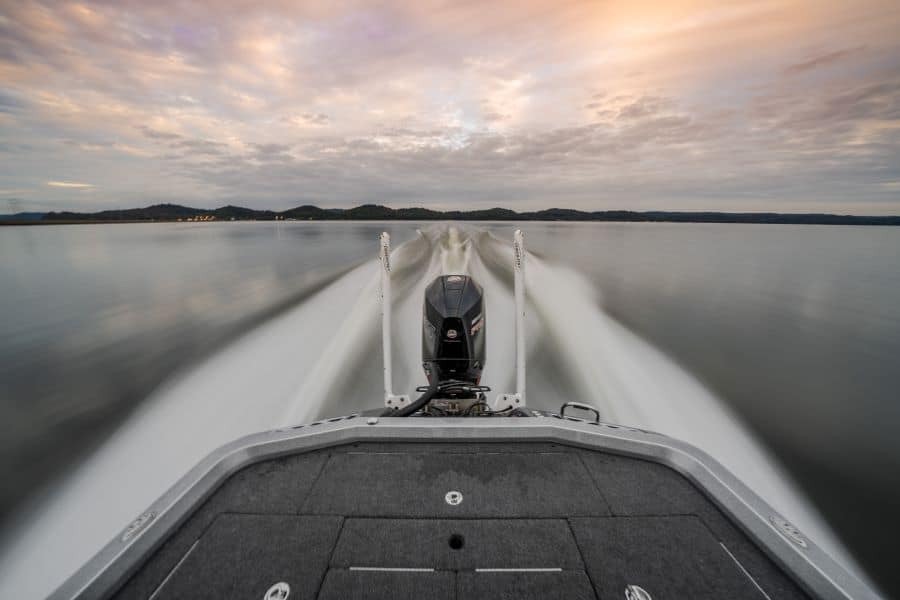 Ahhhhh …  the quiet outdoors, slowing down a bit to enjoy nature and fish. Not so FAST. Bass boats have gotten faster and faster as the sport of bass fishing has evolved. Bass boats are faster than ever, providing joy and competitive advantage to many anglers, while others call for a ban on big motors or a speed limit.  
Bass boats are so fast because the speed allows fishermen to reach their next spot quickly. Fast bass boats have become more popular as tournament bass fishing has grown because anglers benefit significantly from more fishing time due to less driving time.
Many factors affect bass boat speeds. Read on to discover ways to make a bass boat faster, what affects bass boat speed, average speeds per horsepower, the effects of speed on travel time, and more.
Why are Bass Boats So Fast?
Recreational bass fishermen prefer fast bass boats because getting to spots quicker means more fishing time. Also, people enjoy going fast, whether on a bike, ATV, car, or boat.  
When tournament bass fishing is involved, added elements are in play: competition and, often,  MONEY are both parts of the mix and two big reasons why speed is important to many boaters. The faster tournament anglers get to their spots (or beat out the competition to said spots), the better the perceived chance of success.
When fishing on a small body of water, speed can, needless to say, be less of a factor. However, having a fast boat can save a ton of time when on large lakes or river systems (Okeechobee, for example). Travel time from launch to a fishing location can sometimes be 30 or more miles. By shaving time off of transit time with a bigger engine and faster boat, avid bass fishermen can gain a significant advantage.
How Fast Do Bass Boats Go
Bass boats are known for their sleek, aerodynamic design built to glide across the waters, with outboard engines pushing them through the water to help fishermen reach their favorite spots.   Most bass boats run between 40 and 70 miles per hour, but their speed depends on several factors that affect how fast they can go, including weight, length, prop style, engine size, livewell contents, and the number of people on board.  
Below you'll find a helpful chart with average bass boat speeds relative to their engine size since the motor's horsepower is one of the most significant variables affecting the speed of bass boats. Weight, boat shape, length, and payload are all assumed to be typical for this report. The data below includes widely accepted and typical maximum speed ranges for each horsepower.
Horsepower                                           Typical Max Speed                     
| | |
| --- | --- |
| 115 | 41-46 |
| 150 | 46-52 |
| 200 | 60-65 |
| 250 | 70-75 |
How Fast Do Bass Boats Go?
Maximum Horsepower for Bass Fishing Tournaments
The maximum engine size for most club, high school, college professional, and other bass tournaments is 250 horsepower. 
How Does Bass Boat Speed Affect Travel Time — Specific Examples
Small differences in speed (miles per hour) can greatly impact an angler's day and fishing time. Below, calculations illustrate how much time can be lost or saved with a slower or faster boat.
In my tournament fishing experience (mostly bigger tournaments on large bodies of water), I've noticed that running 50 or 60 miles during a tournament day is not uncommon. So, for the purposes of this illustration, the data below is based on a 50-mile travel day. 
You'll notice that the data proves that faster boats do mean considerably more fishing time and less travel time.
Speed                                                                  Travel Time
| | |
| --- | --- |
| 43 MPH | 1 hour and nine minutes |
| 49 MPH | 1 hour, 1 minute |
| 62 MPH | 48 minutes |
| 72 MPH | 41 minutes |
Impact of Bass Boat Speed on Travel Time
Based on 50 miles of Travel
As illustrated, a faster boat may provide almost 30 minutes more time to fish, which is significant, especially for fishermen competing in large tournaments for prizes and money.  
How Weight Affects the Speed of a Bass Boat?
Although there is no hard and fast rule, it is generally reported that, for every 1000 pounds of added weight, boat speed decreases by about 15%. So, for a boat that normally may run 70 miles per hour empty, adding two people, 25 gallons of livewell water, 25 gallons of gas, tackle, gear, etc., speed will decrease by approximately fifteen percent or about ten mph to 60 miles per hour. Although this is an approximation, these numbers, and examples give you a general idea of how weight may affect bass boat speed.
How to Make Your Bass Boat Go Faster. 3 Considerations.
We've established the value of a faster bass boat for recreational and tournament fishing. Below, you'll see three things to consider when trying to get the most speed out of your bass boat. When trying to understand how to make your bass boat go faster, it is important to consider the impact of prop selection, trim, and weight on your speed. As always, with any modifications, please consult a licensed boat mechanic to ensure your safety before changing things up.   
Prop 
Be sure to have the right prop (propeller) for your rig. Your boat's prop directly affects speed and how quickly your boat gets onto a plane. So having the right or wrong prop on your boat can make or break you regarding speed.  
Why use a stainless steel prop for a bass boat? 
Upgrading to a stainless steel prop from the standard stock prop has increased speeds by several miles per hour. In addition, stainless steel does not lose shape like aluminum does at higher speeds, so it flexes less and stays in its original state longer, resulting in a better-quality ride.  
Also, be sure you keep your prop in good shape. Dings and dents in a prop can adversely affect prop performance.   
If you're looking to buy a new or used boat, check out Bass Fishing Insider's comparison guide, "Should I Buy a New or Used Bass Boat?".
Trim 
Understanding how to use the trim on your bass boat motor can be crucial when trying to get the most speed out of your bass boat. Having the right amount of trim on your outboard during your drive time can significantly impact your speed. Being trimmed down too much can cause the boat to drag more because more of the boat touches the water, so friction kicks in to slow things down. Being trimmed up too much can have a different effect. Too much trim means the motor may not be deep enough in the water to push the boat along effectively.   You'll lose efficacy if the motor is too high out of the water.  
Weight  
As mentioned above, weight can have a huge impact on the speed of your boat.   Removing extra weight can drastically improve speed. Empty livewells where possible and eliminate extra, unnecessary tackle, etc.
What's the Fastest Bass Boat in the World?
According to the Allison Boats Facebook page, on April 22 of, 2005, the Allison XB-2002 bass boat set a world record by going an astounding 116.594 miles per hour in Crescent City, Florida.
Are Bass Boats Dangerous? Safety Concerns.
Some people ask if bass boats are dangerous. Like any moving vehicle or boat, bass boats can be unsafe if misused or by inexperienced operators. There are many boating safety courses offered by each state that offer a wealth of training online.   Check out this great list of courses compiled by BoatUS by clicking here. Best of all, most classes are free!
As always, proper care maintenance and regular safety inspections by a boat mechanic are a must to keep you safe on the water while operating your boat.   Before buying a bass boat, check out and enroll in a safety class if you are inexperienced or new to boating. Also, consult with your certified mechanic and safety experts before purchasing a boat or making any changes to your boat to ensure that any existing modifications are safe for use.