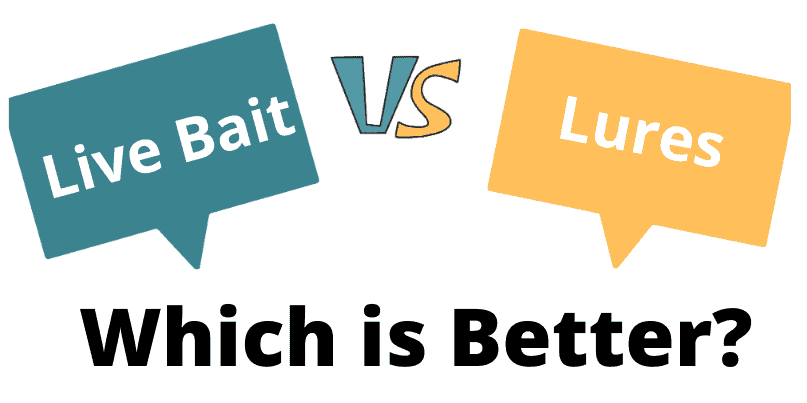 Bass anglers, young and old, have differing views on the use of live versus artificial bait for bass fishing. The debate is as old as bass fishing, and many hold strong and lasting opinions for a variety of well-thought-out reasons.
It's better to use live bait for bass fishing when you're new, fishing recreationally, or looking for any way to get more bites because bass prefer natural bait. Lures are better for bass fishing in tournaments (required), provide a bigger challenge, and may be a cheaper long-term option.
Clearly, there are solid arguments to be made in favor of and against both live bait and artificial lures for bass fishing. Read on below to check out the advantages and disadvantages of both approaches to bass fishing.  
| | | |
| --- | --- | --- |
|   | Live Bait | Lure |
| Convenience |   | |
| Versatility |   | |
| Cover water |   | |
| Transportation and Storage |   | |
| Heavy Cover |   | |
| Cost | | |
| Challenging |   | |
| Tournaments |   | |
| Easier to Handle |   | |
| Catch Other Species | |   |
| Catch and Release |   | |
| Easy to Learn | |   |
| Easy to Use/Effort | |   |
| Catches More Fish | |   |
Is it Better to Use Live Bait or Lures for Bass?
What's a More Convenient Choice for Bass Fishing Lures or Live Bait?
Unlike live bait, lures are always at the ready. You can grab your rod, reel, and tackle box at a moment's notice, head to the lake, and get fishing. 
Not so with live bait. With live bait, you need prep, gathering, and/or purchase time. Live bait also requires maintenance to keep bait alive or fresh. You'll often need an aerator to preserve minnows or shiners and a cooler to keep things like crickets or live worms alive and frisky.
Winner: Lures
class="wp-block-heading">Are Lures or Live Bait More Versatile for Bass Fishing?
Lures offer more versatility than live bait. It's easy to change to different colors, characteristics, and sizes with artificial baits. Trying different cadences and retrievals is a breeze with lures. You can easily switch from a super-fast retrieve that you've been trying to elicit a reaction bite to a slow, methodical one that might be better to tempt finicky fish.  
Winner: Lures
Which Covers Water Better for Bass Fishing, Live Bait or Lures?
Many lures are made to find fish by covering water quickly. However, live bait is, for the most part, fished at one speed and is subject to the limitations of how fast or slow your live bait wants to move.
Artif
icials like spinnerbaits, wake baits, topwater, buzzbaits, and more are great ways to cover a ton of water when you don't know where the fish are, and you're trying to locate their preferred area.
Winner: Lures
Which is Easier to Transport and Store, Artificial Bait or Live Bait?
Storage for lures is pretty straightforward .. .in a tackle box. Live bait, on the other hand, can be a pain to maintain. You may need special livewells or other bait-preserving tanks with aerators for baitfish or refrigeration and coolers for things like live worms or crickets.
W
inner: Artificial Bait
Are Lures or Live Bait Better for Heavy Cover?
Certain types of cover may limit your ability to use live bait. Some live bait, like minnows and shiners, have a mind of their own. They're going to want to swim wherever they want, so thick weeds, sticks, stumps, grass, and matted vegetation make live bait fishing difficult sometimes. In situations like these, you may want to choose an artificial lure that you can fish weedless and snagless.  
During some seasons or even certain parts of the day, bass will retreat to thick cover like matted vegetation or under docks. Live bait can be virtually impossible to fish in these types of settings. Choosing an artificial one might make the best sense to fish in these situations.
Win
ner: Lures
Are Natural Baits or Artificial Baits Cheaper?
Although some lures cost a pretty penny upfront, you'll save money with artificials if you care for them in the long run. Live bait is either eaten or expires, so it's a one-time use kind of bait.  

Lures like hard plastics, spinnerbaits, and jigs are meant to be used over and over, so your initial cost is spread out over the life of the lure. Soft plastics like worms are generally not reusable but are so relatively cheap that they'll also save you money.

If you're new to

bass fishing, you may have some costly days up front with lures because they are susceptible to being lost underwater via snags on logs, bushes, grass, rocks, or other underwater cover.   

Finally, if you're willing, most live bait can be found for free if you like to dig for bait or catch your own baitfish. However, the time it takes to get your own bait WILL cut into bass fishing time.

Winner: This one is a tie.

ing">