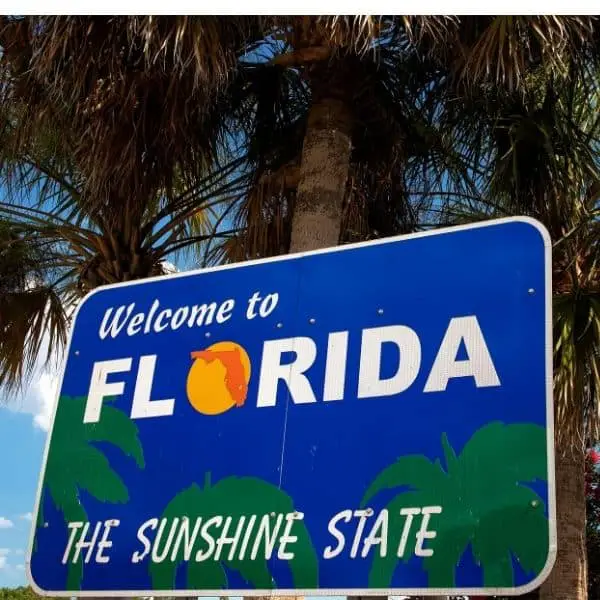 Bass fishing in Florida can be an unbelievable experience regardless of weather conditions. Of course, wintertime fishing can be challenging, but there are some special ways to fish in cold weather conditions here most effectively.
Bass fishing in Florida is truly a year-round sport and never turns off for most of the state. I was born and raised in Central Florida, have fished here my entire life, and have noticed a number of patterns and tricks that consistently pay off. Check out these nine tips to help you catch bass in the winter in Florida.
Tip #1 Look for Deep Structure for Florida Cold Weather Bass
As with other parts of the country, bass in Florida journey to deeper water when cold water enters their system. Using electronics in combination with a good charting system like Navionics is an excellent way to identify areas of the lake or river where good structure is present.   
Although some Florida lakes like Lake Okeechobee are too shallow to find much good deep water structure, plenty offer opportunities to find bass offshore in Florida.   
When I'm winter bass fishing in Florida, I like to look for offshore holes, ditches, or other topographic landscape variations that stand out from the rest of the underwater landscape and present some sort of deviation from the norm. Fishing those areas during cold weather months pays off the best for bass dealing with colder water temperatures.
Two of the best presentations for fishing in tough conditions are a Carolina rig or even a drop shot presentation (an atypical approach for Florida, but one that works well in challenging settings). Check out the recommended Carolina rig setup below. I recommend using a fluorocarbon line (found at Amazon) for either presentation.
Insider Tip:  
Fish a deep part of the system where structure and cover are part of the same area.   For example, try fishing where a river channel bend has grass cover. Where cover and structure collide is where the bass hide.
Tip #2 How to Catch Bass in Shallow Water During the Winter
To catch bass in shallow water during the winter in Florida, look for shallow areas of the lake that have been wind-protected for several days. Those areas may be warmer than the rest of the lake and will attract bass looking for warmer water.  
One trick I've used during colder temperatures in Florida to find bass is to look for areas of the lake that might warm faster during the day than other parts of the lake.   In the days leading up to my fishing dates, I like to review weather forecasts and pay particular attention to the direction that the wind is blowing.  
In areas of the lake where the water is protected from the wind for several days, the water may be subject to less disturbance and suffers less from the cooling effect that the wind may have on the water.  
Upon arrival at the lake, I will check the water temperature in several areas of the lake to get an idea of the prevailing water temperature conditions. I'll then check a few spots in the lake that I've marked which have been wind protected. If I notice that any of those areas are warmer than the rest of the lake, those areas become prime candidates for my fishing for the day.
Topwater will continue to work well even in cold Florida weather. Work is SLOW. Try the Rebel Lures Popper, found on Amazon, and get ready to hook up with some Florida bass!
Tip #3 Extend the Spawning Area to Find Winter Florida Bass
Florida is a unique state with unique weather patterns. Bass fishermen in the aptly named "Sunshine State" take advantage of an abnormally long spawning season because the water here stays warm for much of the year.
Because the spawning season always seems to be upon us, anglers should look for opportunities to fish areas that are good areas for bass to stage or set up for the spawn. When the weather turns cold, I like to start with obvious spawning areas, but not as my primary target for fishing. Instead, after identifying a spawning area, I like to look for the closest deep water or offshore structure site where bass may position themselves to be ready for bedding season. 
For an excellent book that explains seasonal bass movement, check out The Pocket Guide to Seasonal Largemouth Bass Patterns on Amazon.
Bass tend to relate to spawning areas throughout the year, whether they're bedding or not.   The water temperature and moon phases will determine how far away from the spawning area the bass will be.  
For example, in many lakes here in Florida (and across the country), bass like residential canals for spawning. The colder the water gets, the farther I move AWAY from the canals.  
As the water warms up, I move closer to the mouths of the canals. As water temperature approaches but doesn't reach spawning temps, I look for cover or structure outside the mouths of canals. For example, I might look for a group of lily pads thirty to fifty yards out in front of a canal when I suspect bass are getting ready to spawn because of a warming trend during the winter months. 
Finally, when the weather hits right (and the moon phase fits), I'll move into the canal because the bass will bed under these right conditions.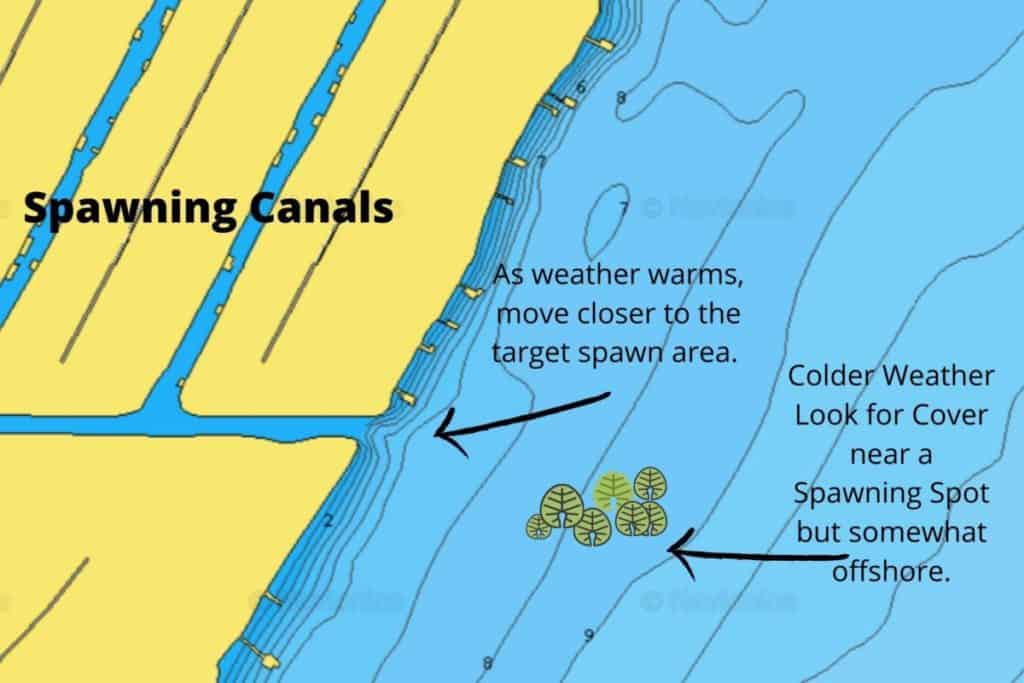 Tip #4 Multiple Presentations May Be Necessary
When Florida turns cold, the bass's metabolism is slower, meaning they don't need as much food, so they aren't as willing to travel far to get it. 
In ideal weather conditions, I may make one cast to a general area where bass hide to draw them out for a bite. However, I may need multiple presentations to adequately fish one piece of cover at different angles in colder weather to elicit a strike.   Simply put, you may have to land the lure or bait right on a bass' nose or "annoy" them to get them to bite when the weather is cold.
Tip #5 Know the Difference Between North and South Florida Bass
Understanding that different parts of the state fish differently than others is essential in figuring out the bass fishing in Florida.   Common sense tells us that the winter in North Florida lasts longer than in South Florida, but the implications are what's important here.  
Bass fishing in a north Florida lake in December can differ significantly from one in south Florida. For example, Lake Okeechobee winter bass fishing is vastly different than a panhandle area lake like Lake Seminole.  
The spawn can happen much sooner in the year in Central and South Florida, whereas North Florida lakes see a shorter spawning period.   Additionally, many North Florida lakes, like Lake Talquin, are great candidates for traditional offshore wintertime fishing techniques like ledge fishing, whereas South Florida lakes like Okeechobee are not.
Tip #6 Understand How Cold Fronts Affect Florida Fishing
Like much of the rest of the country, cold fronts profoundly affect the temperament of bass. Fish tend to fire up and go into "feeding frenzy" mode just before a cold front. Activity usually increases significantly just before the front.
Post-frontal conditions typically have the opposite effect. Bass usually slow down as a result of the colder water and tend to be less aggressive. The air pressure after a cold front is generally higher as well, causing fish to mentally "retreat" as their bodies adjust to physiological changes due to the new conditions.
For bass fishing in Florida during the winter after a cold front, I try to adjust tactics to match the temperament of bass. In particular, after a cold front moves through, I slow the cadence of my retrieve significantly and fish slower-moving baits when possible.  
Tip #7 Use Slower Tactics to Match the Metabolism of Bass
Wintertime means lethargic bass because of slower metabolism. Check out Bass Fishing Insider's great article How Do You Catch Bass in the Winter (A Complete Guide) for an in-depth look at how winter bass act, where they go, and tips for catching cold-water bass.
One particular technique I like to use is to dead stick a plastic worm around grass edges . . . and yes, there is usually still some grass in Florida lakes during the winter. However, since bass are not as aggressive, it's important to LET IT SIT longer than usual. Bass may stare at your bait and ponder for quite a while before taking action.
Slow rolling a smaller crankbait ((I like the KVD square bills (Amazon)), Carolina rigging, and fishing a wacky rig can also all be effective cold weather lures and bait for Florida Winter bass fishing.
Tip #8 Try Shiners: Florida Bass Candy
I'm a big artificial bait guy because I'm involved in tournament fishing, and live bait is not allowed in bass fishing tournaments.  
However, shiners are a fisherman's best friend for winter bass fishing in Florida when the bite gets tough. Bass simply find them irresistible.   They are bass magnets here. Free lining works well, or tie one on with a bobber and hold on for the catch!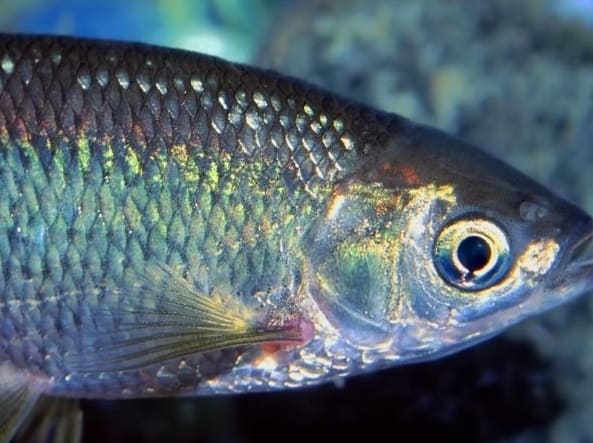 Tip #9 Pay Attention for Signs of an Early Spawn
Florida is unlike any other state because of its tropical weather, particularly in the central and southern parts of the state. As a result, the spawning months can start as early as January and continue well into the middle part of the year (early June).  
Water temps must be approximately 66 to 70 degrees for bedding to start. When I see a  warming trend that is sustained and close in time to a full moon period, I look for signs of the spawn.  
5 Best Lures For Winter Bass in Florida 
Wacky Rig. A wacky rig is an excellent bait to fish for lethargic bass in Florida during the wintertime. Fish it around deepwater docks, holes in the grass, or grass lines for best results.
Shaky Head. Using a shaky head in Florida is a deadly technique for mesmerizing bass who are not very aggressive due to slowed metabolism.   Deep structure with cover is an optimal spot for a shaky head. Find a brush pile sunken on a point, and you've found shaky head heaven. If you're Looking for a great shaky head setup, check out Harmony Fishing's Shaky head hook on Amazon.
Carolina Rig. Shell bars are a hot spot for cold-weather Florida bass.   Try slowing down with a Carolina-rigged soft plastic. Then, slowly and methodically work the area to elicit coldwater bass bites. VMC makes a super-easy setup kit for Carolina Rigging (check it out on Amazon).
Jerkbait. Main lake points in Florida are a perfect haunt for holding bass during the Florida wintertime.   Try working the area with a jerkbait with long pauses between twitches. Even lazy bass can't resist the temptation of a jerkbait worked through their winter home. Check out Kevin Van Dam's signature series, jerkbait by Strike King, on Amazon. It's arguably, one of the best on the market.
Large Plastic Worm. Throwing a giant ten or 12-inch worm into a winter holding spot can pay big dividends. Although bass may not be overly interested in eating, a large treat like an oversized worm can be the trick to grabbing the attention of a sluggish bass. The BEST one on the market, in my opinion, is by Berkley (you can find Berkley Powerbait on Amazon here)
Final Word
Florida is an outstanding state for fishing. The weather here allows bass fishing enthusiasts to fish year-round without much reason to stop. Temperatures in most of the state stay fairly moderate relative to the rest of the country, making the sunshine state a perennial favorite for bass fishermen worldwide.