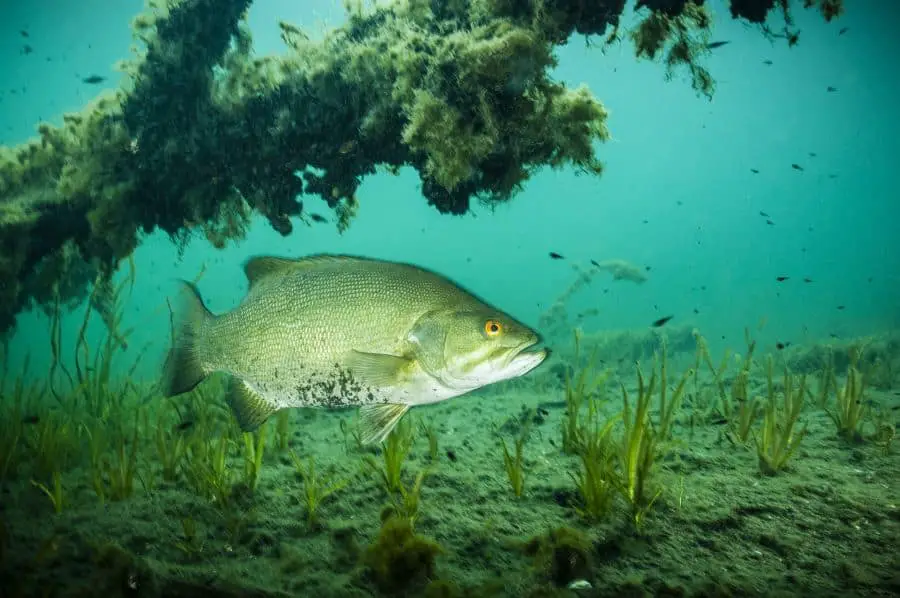 Understanding whether or not bass can smell bait can significantly affect your fishing success and catch rate. In my quest to achieve fishing success, I've uncovered some interesting facts about using bait with added scents.
Scientists believe that bass can smell bait and respond to scents like garlic, coffee, salt, anise, and other bass attractants if they are close enough to the bait to detect the smell. Bass smell by sensing chemicals released by the attractant and can detect scents in smaller doses than humans.  
Although bass can smell, it's important to carefully consider which smell or attractant for bass offers the right scent for hooking up with more fish in a given situation. Choose the wrong scent, and you could hurt your chances of catching more bass. Read on … the way that they respond to smells could surprise you.
Making 'scents' out of a bass' sense of smell.  
Understanding a bass' sense of smell is vital to your bass fishing success. Now, let's dig into the fascinating world of underwater smell and how to use it to your advantage, whether enjoying family fishing time or competing in bass fishing tournaments. 
Adding scents to bass bait lures and soft plastics is not a new phenomenon. Fish attractants have been around for a long time, starting with things like mustard, peppermint, licorice, and vanilla. Fishermen have used scents not only as an attractant but also to mask the smell of things like insect spray, sunscreen, oil, and gas that might turn a fish away from a bait. 
The bass brain is not the same as a true scent-feeding fish, like a catfish, but scent does play a role in their feeding tendencies. Bass have a wider range for smell detection underwater than humans do in the air. Smells disappear quickly in the air but stick around much longer in water. Additionally, fish can sense the smell in water in smaller doses.
Is there proof that bass can smell?
Renowned fish researcher Keith Jones of Berkley has been a pioneer of study regarding scents and bass baits. He has dedicated his work to understanding what bass prefer regarding smell, color, size, flavor, and other qualities that might entice a bass to bite.  
According to Jones, in his book, Knowing Bass, 
"Scents are known to significantly enhance bass catch rates when applied properly." 
Jones is known for conducting A test in which a variety of lures were used in a bass aquarium with different scents applied. Conventional thought would lead us to believe that fast-moving lures would not benefit from the added smell because bass would not have time to smell the lure. However, when used on hard lures in a Jones study, adding smell resulted in twice the number of hits by bass versus lures that did not have smell added. Furthermore, the bass also latched on to the baits with added smell up to three times longer than non-scented bait (courtesy of Outdoor Life).
Interestingly, Jones has noted that bass initially react to bait because of the action of the particular bait. Smell is not the initial attractant because the smell dissipates quickly as the bait moves through the water. However, as a bass approaches a lure or soft plastic, the smell may become more important … mostly, he states, when the fish is close to the bait.   If the bait emits a scent that the bass is interested in, the bass' pursuit of the bait or lure will continue; if not, the bass may retreat.  
Jones mentions that bass will hold onto baits that TASTE good to the fish for longer than baits without scent. By adding taste to a lure, bass may hold on longer, thus allowing for better hook-up ratios.
INSIDER TIP In conclusion, research seems to indicate that bass respond initially to lure movement, then may react to smell as they approach the lure or bait, and, finally, may hold onto the bait longer if it tastes good to them.
What do professional bass fishermen think about smell?
Many professional bass fishermen are proponents of adding smell to their bass baits and lures as they look for ways to gain an advantage over the competition.  
Kevin Van Dam is a big believer in the efficacy of added scents to bass baits. The four-time Bassmaster Classic winner adds smelling agents to his hard baits and soft baits, as well as fishing with smell-infused products. However, he prefers his lip balm style FIshsticks brand because he feels it stays on the bait longer and has a longer-lasting effect. Van Dam advocates for the specialty product, especially when sight fishing for bass on beds stating that he noticed a significant difference in bite rate when applying the attractant to his soft plastic bait. You may want to check out his product on Amazon by clicking the following link, Fishsticks.
Bill Dance is another well-known advocate of adding smell to bass baits and lures. Dance believes that adding smell can only enhance a lure's chances of being a bass target. In his usual "quippy" mode of communication, Dance explains it this way, 
"Throw a dog a sponge that is shaped like a weenie, and he'll turn up his nose, but dip that sponge in gravy and toss it at the dog and see what happens.  You'll need a new sponge!"  (Courtesy of bassmaster.com).
Skeet Reese is a big proponent of scented soft plastics. Reese states that fish hold on 18 times longer to Berkely's Powerbait line of baits because of the added fish attractant that causes fish to grab and not let go. You can find Powerbait products here on Bass Shops online. There are a large number of soft plastic Powerbait products that are suitable for many different situations.
2000 Bassmaster Classic champion Woo Daves and veteran pro angler Marty Stone tell stories about times when they presented seminars at large fishing shows. Part of their presentations included making casts in a controlled environment (a bass-filled tank).  
Daves recounts that he made multiple casts and did not get a bite. After applying Jack's Juice, Daves says the bite was on immediately. Bass Pro carries Jack's Juice. You can check it out by following the link here, Jack's Juice.  
Stone tells a similar story. The tank Stone was using had been used all day long with a maximum of 3 bites during any one presenter's time at the tank. Bang attractant owner Mike Sherman offered to spray Stone's bait before his time to present. Stone then proceeded to make 30 casts with a bite on every cast. Click here to check out Bang on Tackle Direct's site. Bang is well-known in the industry and has applications in a wide variety of settings.
Secrets to Picking the Right Smell to Attract More Bass.
Take a look at your local tackle store, Walmart, Bass Pro Shops, or any other retail outlet, and you'll find quite a selection of attractants and scents, including things like garlic, coffee, and more. In the table below, you'll find a detailed analysis of a wide variety of the most popular bass attractants. Attractants can be either added to or infused into a bait.
A myriad of bass bait companies add infused scents into their product, including well-known companies like Berkeley with their Powerbait line of products and Strike King with a variety of scented soft plastic baits, including ones touted by Kevin Van Dam. The information below will focus on fish attractants that can be added to your lure or bait and will help you to understand the best scents for soft plastic baits and hard lures. Take note that not every scent is created equally. Some offer more ingredients and may arguably be more effective as you pursue a lunker bass.   
Over the years, many bait, tackle and lure companies have introduced a wide variety of ways to add scent to bass bait and lures.   When considering which attractant to add, you should consider several things, including what is added, how it is added, and how long it will last (of course, the cost is also a consideration). Below, you'll see a carefully crafted analysis of different attractant options. To check out the latest prices, click the picture in the table to visit Amazon, Bass Pro, or our other great affiliates. Have a favorite that you don't see listed? Add it in the comments section below!
| | | | | |
| --- | --- | --- | --- | --- |
| Product Name | How to apply | Benefit | Cost | Where to find  |
| Smelly Jelly | Slather on with a finger or applicator. | Stays on lure. Long-lasting. Very popular. | $10.49 for 4 oz. | |
| Kick'n Bass Scent Fish Attractant | Squirt bottle application. | Real, heavy fish oil. Long-lasting. | $6.29 for 4 oz.  | |
| BANG Fish Attractant | Easy to use spray. | Easy to apply. Advocated for by well-known pros. | $7.99 for 5 oz. | |
| Spike-It Scented Dip-n-Glow Fish Attractant – Gamefish | Applied by dipping.  | Dual purpose as a dye and scent. | $6.49 for 2 oz.  | |
| BioEdge Wand Fish Attractant  | Glue stick style application. | All-natural ingredients. Long-lasting.   | $8.99 for ½ oz. | |
| Jack's Juice Freshwater Aerosol Bait Spray | Aerosol spray.   | Not only coats but soaks into baits. | $6.99 for 8 oz.  | |
| Berkley Powerbait Attractant | Squirt bottle application.   | Trusted brand in the scent industry. | $4.99 for 8 oz.  | |
| Fishsticks | Chapstick style application.  | Made with 100% fish oil. No mess application.  | $10.99 for .5 oz.  | |
Analysis of popular bass attractants.
Smelly Jelly
Smelly Jelly has a large following with both recreational and professional bass fishermen. Smelly Jelly is offered in a wide variety of flavors, including anise, shad, nightcrawler, and more, making it suitable for many different fishing scenarios. Smelly Jelly is acclaimed as a long-lasting scent, saving money and time.
Kick'n Bass Scent Fish Attractant
Kick'n Bass is known for its authentic smell crafted from genuine fish oils with no added fillers. They've added a proprietary blend of fatty acids, proteins, and other attractants. Combine their unique blend with their one-of-a-kind dispersion blend, and you've got a winner when it comes to bass attractants. They tout their formula as long-lasting, noting that it stays in place for hours and sometimes days.   
BANG Fish Attractants
Bang fish attractants are made from real fish and do not use any synthetic ingredients. The product is specially designed to emit natural scents that mimic real bass bait. The Bang attractant is easy to apply with their spray-on applicator making it cleaner to use.   This product is recommended for recreational as well as veteran professional anglers.  
Spike-It Scented Dip-n-Glow Fish Attractant
The Spike-it line of products is an excellent option for those looking for a dual-purpose attractant. By combining scent with dye, Spike-it has a one-of-a-kind attractant that dyes baits immediately, resulting in a permanent color change to the affected area. Spike-it claims to have the longest-lasting scent on the market. The brand has a long-standing history in the bait attractant market, with over 25 years of experience creating its industry-leading products. (Product not appropriate for stretchy plastics.)
BioEdge Wand Fish Attractant
BioEdge has engineered an attractant that combines oils, proteins, and pheromones from target baits that bass seek after as they look for food and prey. They have an extensive selection of "flavors" with one of the most diverse offerings in the bass bait scent market.   They are known for innovative products that mimic natural bait smells because they use real live bait ingredients in their mix.
Jack's Juice
Jack's Juice is a time-tested product with a long history of professional tournament usage. Its aerosol application is one of the easiest methods of smell transfer keeping your messes to a minimum. Jack's Juice manufacturers assert that their attractant is unique because it actually soaks into the plastics instead of staying on the outside, thus providing a significant duration advantage over competitors. They also offer numerous scent options making Jack's Juice a fishing industry favorite.
Berkley Powerbait Attractant
Perennial industry powerhouse Berkley has a scientific pedigree and research team second to none, and their attractants prove it. Their claim to fame is that the powerbait line will make bass hold on up to 18 times longer, creating a significant advantage for anglers and a better hook-up ratio. Berkeley Powerbait is known, well-used, and popular throughout the entire bass fishing world.
Fishsticks
Fishsticks is one of the most dynamic bass attractants because of their unique application method. It is made without liquids and applied via a tube similar to lip balm resulting in less mess and less waste. The Fishsticks attractant is made from real fish, making it a great way to entice fish to bite because of its natural smell and taste. Fishsticks is recommended for anglers looking for a product that is easy to use and effective for catching more bass.
Related Questions
Can Bass Smell Blood?
Although bass can smell as they target prey, there is no consensus on how well they can smell blood. Unlike catfish, who are known to react to the smell of dead fish or blood, there appears to be less scientific proof or anecdotal evidence that bass smell blood.
How to Make Bass Attractant
Although some believe you can make your own attractants using garlic, oils, salt, and other natural smells, homemade attractants may be less effective than professionally made retail products. Attractants made by well-known, reputable companies have the advantage of being made as a result of significant scientific research and testing.