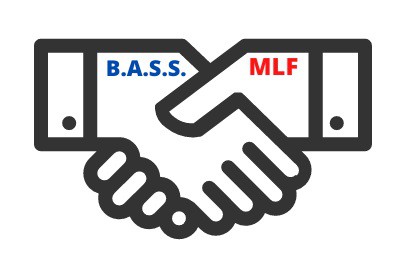 Today, the bass fishing world has been turned on its head as news leaked to Bassfishinginsider.com and several other fishing media outlets with the announcement of one of the biggest breaking stories in sports.   
In a joint press conference, B.A.S.S. and MLF stunned the fishing world by announcing the merger of the two bass fishing giants.  Be sure to read the full story below for important information about how this will impact the future of professional bass fishing. 
As industry stalwarts, B.A.S.S. and MLF are the two big players in the professional, amateur, college, and high school fishing worlds. Although the two organizations run independently, they each provide similar platforms for anglers to compete in well-organized events geared towards bass fishing enthusiasts looking for a competitive environment. After months of meetings between the leaders of both groups, the time has come for them to join forces.
In the early stages of discussions, both parties had preconceived notions about how things would look post-merger.  As a result, negotiations seemed to be at a standstill as leaders hit roadblocks in merger talks.  The main issues confronting organizational leaders were disagreements over who would lead the new group, which anglers would participate, and, most importantly, how sponsors would transition from competing entities to one giant conglomerate.
"Our two organizations have been in talks for quite a long time. After reconciling differences, the dream is now a reality."   – Anonym.
In the end, cooler heads prevailed.  The parties agreed to a third party, "head of state," to direct affairs for the new group. One name that continually popped up as a leading candidate was fishing legend Rolbill Dancetin.  It appears likely from information received from anonymous sources by Bass Fishing Insider that Dancetin will indeed assume the role of president of the newly-formed Major League Bassmaster Wold Fishing Group of the Americas United.  
"I am honored and privileged to have the opportunity to be a part of this amazing new organization.   The MLBWFGAU is the wave of the future for bass fishing.  I cannot wait to continue to help grow the sport, making it a premier American pastime."  

Rolbill Dancetin.
As for anglers, Dancetin stated that the newly created professional trail is wiping its slate completely clean.  "We've decided to start fresh.  All anglers must qualify for the Master League Tournament Series through a well-thought-out qualifying trail.  We expect to release dates and locations very soon and are excited to open entry within the next couple of weeks."  
"What we're doing with sponsors will revolutionize the world of sports entertainment. First, current sponsors will finish their contractual terms but double their exposure at no extra cost. Then, after current terms expire, new sponsors will effectively bid on sponsor spots in a live, televised auction airing on a major network."  According to Dancetin, due to a non-disclosure agreement (NDA) with the participating network, the MLBWFGAU is not releasing the network's name, but suffice it to say, it's prominent, recognizable, and well-watched.   
All that's left now is for both parties to get back to work, get on the water, and SMILE because it's April Fools, folks, and none of this is real.
Fish on and tight lines!
-Brought to you by bassfishinginsider.com – industry news, tips, and more.