Last week, the famed "Super Bowl of Bass Fishing" wrapped up on Lake Hartwell, crowning a new king of bass fishing for 2022. The 52nd Bassmaster Classic included plenty of action culminating in a dramatic neck-to-neck finish between Jason Christie and Kyle Welcher. However, after all was said and done, Christie walked away with the win in what will go down as one of the most closely contested finishes in Classic history.
Record-setting crowds showed at the Classic this year, proving, once again, that the popularity of bass fishing is on the rise. Over 150,000 people attended the event enjoying the daily weigh-ins and expo activities.   
In addition to the outstanding on-the-water competition, the Classic featured the ever-popular expo where industry juggernauts and up-and-coming companies were in attendance, all displaying and discussing their latest and greatest products. Roaming through expo halls was also a surefire way to see numerous pros with plenty of picture and autograph opportunities by anglers, including legends like Bill Dance and Roland Martin.   
Bass Fishing Insider was in attendance, talking to and interviewing many great companies. Below, check out 8 of the hottest products from the expo (listed in no particular order).
30 SECONDS. All I needed with Jason and Jackie of J3 was 30 seconds to see that the founders of J3 are different. In addition to their outstanding spinnerbait products, this dynamic couple is laser-focused on their company and life mission. Sharing their faith through the platform of fishing is their ultimate goal.  J3 shares a whopping 33 percent of its profits with missionaries around the world!
J3 Cross spinnerbaits are based on a modular spinnerbait system which allows anglers to break down their tackle into smaller components. The collapsible pieces can then be easily stored in regular tackle storage compartments eliminating the need for specialized spinnerbait boxes.   
Each spinnerbait features a Spro ball-bearing swivel with split rings and a patent-pending quick-release fork and wire, allowing users to collapse and store the bait quickly.   Even better, parts are interchangeable, so anglers can quickly adjust to conditions by changing sizes and colors.  
J3 spinnerbaits include Victory hooks, renowned for their top-notch performance. J3 has also partnered with Living Rubber, known for their hand-tied rubber bait skirts that offer superior action compared to regular silicone-based skirts. 
Their spinnerbaits are equipped with either a single nickel willow blade or a hammered brass Colorado blade, which garner plenty of attention from bass with tons of water displacement, flash, and thump.   
The result is nothing short of spectacular!
You can tell a lot about a company based on the type of people representing its brand.   I was extremely impressed with the Rock Fish staff at the Classic. They presented well and did an excellent job promoting their company and explaining the benefits of their products.
Rock Fish has the right gear to shield your hands from the elements if you're looking for top-of-the-line protection.   Available in Mossy Oak camo patterns, these gloves are specially designed for novice and veteran anglers looking for a way to stay in contact with their rods, reels, line, and bait while maintaining ultimate protection. Whether you're looking for total hand protection or fingerless gloves, Rock Fish has a wide variety of products suited for saltwater and freshwater applications.  
Check out Rock Fish for gloves that look great, fit right, and offer unmatched protection!
3. Toadfish – Non-tipping Rocks Tumbler
Strolling through the expo hall, I was presented with enormous amounts of information with hundreds of booths and displays. The Toadfish booth stood out among the rest with an incredible booth presentation, so I decided to take a look.
Toadfish offers various products, including rods, reels, apparel, kitchen tools, and drinkware. Although I was impressed with many of their products, one, in particular, caught my eye.  
The Toadfish Non-tipping Tumbler combines their patented Smartgrip technology with double-wall vacuum insulation to give users a virtually spill-proof experience with long-lasting temperature maintenance for both hot and cold drinks. This product is a must-have for active environment users!
The Booby Trap was, perhaps, the most intriguing lure of the expo attracting large crowds waiting to see Sean and his team at Lawless Lures demonstrate and explain this fantastic little creation.   
This bait imitates the movement of a dying baitfish with perfect accuracy. The designers at Lawless Lures have created a true original with lure innovation unlike any other.  
"The BoobyTrap employs a patented state of the art slip mechanism, which creates a twitching action mimicking the distressed movements of dying prey."

Lawless Lures
See for yourself how this amazing lure works in the video below.
With a wide variety of scents geared towards attracting the attention of multiple species, Proline offers attractants for many different kinds of fish, including bass, crappie, trout, catfish, and carp,  
Proline has the secret sauce for almost any fishing application. Their attractants are handmade in the Carolinas, so products are made with consistency and attention to detail to create some of the best scents on the market. The end result is simple. Anglers will land more fish with better cast-to-catch ratios. Give them a try on your next outing. You won't be disappointed.
The Megabass brand and its longstanding reputation for high-quality lures came through again with their latest and greatest creation, the Sleeper Gill. I cannot wait to get out on the water with the lure, one of my personal favorites from the expo. 
The Sleeper Gill is one of the most accurate imitations of bait I've ever seen, with the added benefit of a built-in weed guard, perfect for working through various forms of underwater cover. Additionally, when targetting bottom dwellers, the Sleeper Gill stands upright when paused, making it irresistible to fish looking for a slower presentation.
Megabass is a proven pioneer in the fishing industry, using technology and innovation to create lures that outperform the competition and exceed expectations. It's clear that the creators at Megabass have spent countless hours on research and development on the Sleeper Gill, as evidenced by its elegant design, life-like features, and superior fish-attracting features.  
The expected release of the Sleeper Gill is set for June 2022. Set a reminder now so you can be ready to get your hands on this fantastic new addition to the Megabass family.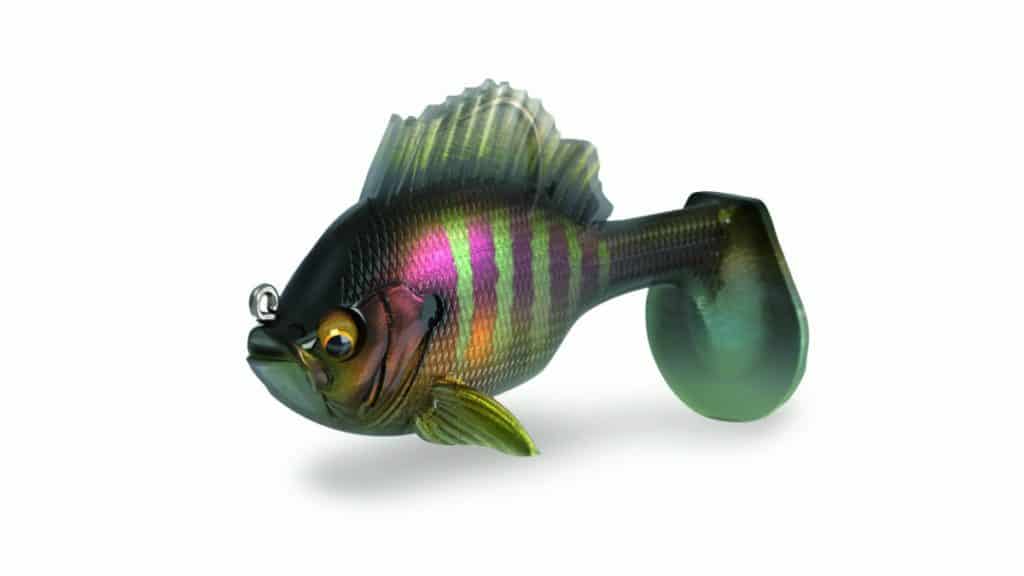 Although not an expo product per se, C.A.S.T for Kids warrants special mention. As our group approached this booth, little did we know that we were about to have a remarkable experience. My cousin and his beautiful special needs daughter drove over from North Carolina to attend the Classic and expo for the day. Unbeknownst to us, we happened upon an amazing organization. 
We were greeted with smiles and open arms by Jeff Barnes and Hall of Fame professional Jay Yelas.   Both of them instantly lit up with excitement to meet Jackie (and the rest of us) and explained their foundation's mission,
"The C.A.S.T. for Kids Foundation enriches the lives of children with special needs, supports their families, and strengthens communities through the sport of fishing. We empower families and communities to celebrate children with special needs, making these children feel valued and loved so they can overcome limitations and be successful."

Jay Yelas
This group deserves recognition for its outstanding work for kids with special needs. They host events all over the country and always look for volunteers and support to assist their efforts. Get in touch with them today to see how you can be a part of this incredible foundation!
The expo was full of an overwhelming number of new products and great companies. In addition, I spoke to and interviewed a large number of excellent staff, all of whom presented their ideas well and were very willing to share their backgrounds and inspirations for creating their baits.  
Jeremy and his staff at Pulse Fish Lures were no exception. I was impressed with their passion for fishing and in-depth knowledge of the industry. Their products are a mainstay of many professional and recreational anglers for good reason.  
Based out of South Carolina. Pulse Fish Lures was created with a legacy of in-depth knowledge of the waters of Lake Hartwell, home of the 2022 Bassmaster Classic. All of their lures are outstanding, so choosing one to highlight was a challenging task. However, since I spent time on the water while in South Carolina fishing with an underpin on my Classic trip, my choice was simple.
The Matt Arey Signature Underspin is packed with outstanding features, including 3D bubble eyes, a Gamakatsu 3/0 light wire hook, a Spro swivel, and a wire keeper. This bait is an absolute must for anglers looking for that unique twist to attract the attention of finicky bass. It's versatile and perfect for a wide variety of settings and applications. I highly recommend picking up some of these awesome lures that would make a fantastic addition to your bass fishing arsenal.
The Bass Line
In sum, this was one of the best expos I've ever been to, chock full of great new ideas, awesome people, and all of the excitement with the Bassmaster Classic. Other than being on the water with a rod in your hand, there's nothing better than being around some of the most hardcore fishermen in the world, learning about great new products, and talking about fishing 24/7. So if you've never been to a Classic, find a way to get to one of these fantastic events.  
Tight lines, everyone, and fish on!
Special Note:
Since the expo includes many great companies, we couldn't include every product. If you were a vendor at the expo and we missed you, please don't hesitate to contact us so we can discuss your product for future articles.