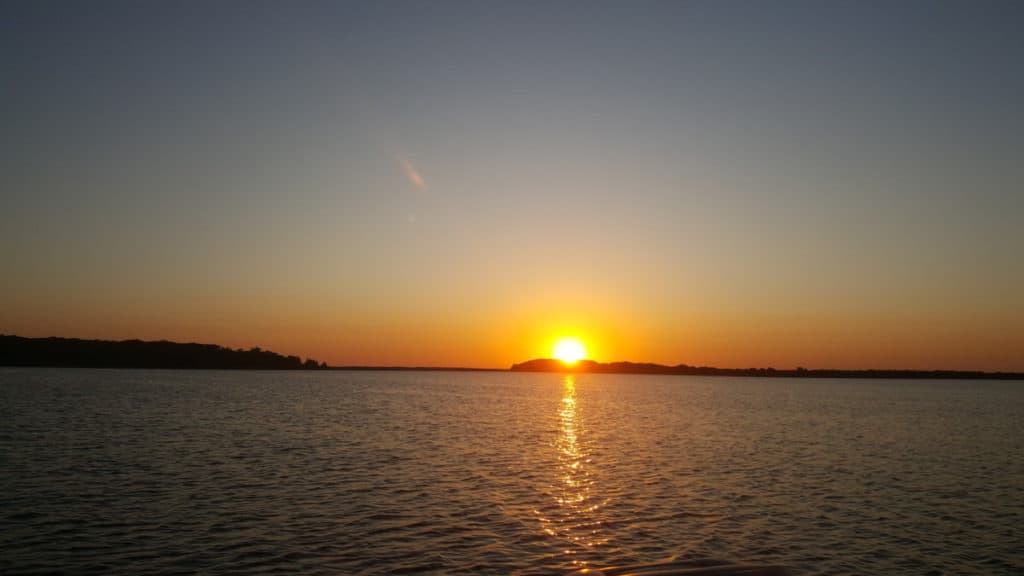 Spending a day on the lake is a great way to break from the norm, get some rest, enjoy relief from stress, and enjoy nature. Embarking on a trip focused on bass fishing takes respite to an entirely new level.
Most of the following top bass fishing vacation spots include the following:
Lodging 
Food
Guides or boat rentals
Enough fishable water to support more than one day of fishing.
The following destinations are not listed in any particular order.
Whether you're looking for an all-inclusive trip, a great fishing lodge, or for a guide trip, I've uncovered 15 of the best bass fishing vacations for catching fish and having fun!
1. Dream Lake Lodge
Livingston, Alabama
Dream Lake Lodge is a one-of-a-kind outdoor destination offering a variety of hunting and fishing excursions ranging from deer and turkey hunting to bass fishing in their own on-site lakes.
Lakes are filled with plenty of cover, including sunken rock piles and timber, as well as structures like ledges and ditches.    
Dream Lake provides EVERYTHING needed for the trip of a lifetime, including rods, reels, tackle, and even bass boats.
The 5 bedroom lodge is situated perfectly overlooking the lake with breathtaking views. Each bedroom is outfitted with two queen beds and a private bathroom. Dream Lake also includes a bunk room that includes 6 sets of bunk beds and two full baths. Max capacity at the lodge is 22 people.
Finally, dining is a real treat at the lodge, with home-cooked style meals served in a quaint but large dining room complete with a fireplace.
2. Lake Fork Lodge
Alba, Texas
The Lake Fork Lodge, located on the shores of world-renowned Lake Fork, has been recognized by Sports Afield Magazine as one of the top 14 Bass Fishing Lodges in the United States and has earned a spot on our Top 15 for good reason.   
If you're looking for one of the best bass fishing vacations in Texas, the Lake Fork Lodge is a great bet. The venue includes an amazing lodge and bass guide service and boasts a world-class fishery.
Lake Fork Reservoir is almost 28,000 acres of prime bass fishing, known for lunker bass, including many over the 12 and 13-pound range.   According to the Texas Parks and Wildlife website, 
"More than 65% of the Texas Top 50 largest bass (including the current state record) and more than half of those entered in the Toyota ShareLunker Program, were caught from Lake Fork."
The grounds include a boat ramp for launching your own boat, or visitors can commission one of the lodge's knowledgeable guides for a great day of guided bass fishing on Lake Fork.
The 7-bedroom lodge is located on 5 acres of lush landscaping and includes a private boat ramp for guest usage.   Amenities include a lodge hot tub, billiards, grilling area, and patio. The lodge provides a satisfying breakfast to help kick start the morning before an amazing day of fishing. After a long day of great fishing, enjoy time by the fire pit, then grab a great night's sleep while you rest easy inside the gated facility.
3. Bienville
White Springs, FL
This outstanding and incredibly unique fishery is a chain of lakes (thousands of acres) produced as a result of phosphate mining in Florida. Phosphate pits in Florida are well known for their abundant and healthy populations of Florida bass, but many former mining pits are private and inaccessible. Not so with Bienville. It's accessible and very fishable.
Bienville is mega bass heaven (the largest bass out of lakes, according to the Bienville website, is a whopping 15.68 pounds). Each of the lakes on the chain is a bit different, with varying depth, structure, and cover, so anglers will have the opportunity to employ a wide variety of techniques throughout their stay.   Guides are available to help guests enjoy a day of carefree fishing and catching!
Bienville lodging is second to none and includes 5 large lodges, each with 5 bedrooms and 5 bathrooms, as well as a great room with a fireplace, tv, internet, kitchen, and lakefront porches.  
Bienville dining includes fine dining prepared and created to satisfy with a 5-course meal as well as buffets for larger groups. Breakfast, dinner, and lunch are available as part of the stay.
Taking a bass fishing vacation to Bienville in Florida is sure to impress. Bienville is a perfect spot to create lasting memories.
4. Big Cedar Lodge
Ridgedale, Missouri
Big Cedar is truly an all-inclusive bass fishing resort like none other.   It is SIGNIFICANTLY more than a simple bass fishing vacation spot. The resort community is located on Table Rock Lake and was created by the founder of Bass Pro Shops, Johnny Morris.  
This fishing-inspired resort offers much more than a place to lay your head after a day of bass fishing. Among its vast array of amenities are the following:
2 Marinas
50,000 square foot Fun Mountain activity center (bowling, laser tag, go-karts, etc.)
World-class spa
5 Golf Courses
Pickleball
Hiking Trails
Segway tours
A Working Grist Mill
Horseback Riding
Wildlife Tram tours
Miniature Golf
Canoes and kayaks
Multiple swimming pools and hot tubs
A Lazy River
Fitness Center
Playground
Private beach 
Shooting range and academy
Organized activities
Boat Rentals
And more.
Accommodations are plentiful, with 302 different options, including lodge rooms, private cabins, glamping setups, and cottages.
With multiple restaurant options and in-room service, there are seemingly endless choices to make when it comes to dining at Big Cedar, including awesome places like the Osage Restaurant (fine dining) and the End of the Trail All-American Wine Cellar.
All this, on top of the amazing Table Rock fishery, makes for an amazing all-inclusive bass fishing trip perfect for families, couples, or corporate outings.
5. Kentucky Lake's Big Bear Resort   
Benton, Kentucky 
Located on the shores of Kentucky Lake, Big Bear Resort is a 52-acre complex complete with lodging, a private beach, a pool, and a marina.   
There are also a number of beautifully decorated private lodging options available, including cottages, cabins, condos, and townhomes.   Guests also have access to a well-equipped campground with shower and bathroom facilities, firewood, and laundry facilities. As an added bonus,  pets are welcome to stay.    
Bass fishing enthusiasts will appreciate the easy access to Kentucky Lake via the top-notch marina with excellent facilities and services, including gas, fish cleaning station, grocery and snack shop, boat rentals, and more. Bait and tackle are also available on-site.
Rodney Hargrove's Guide Service is well-reputed and serves guests on trips of a lifetime on Kentucky Lake which is approximately 160,000 acres of some of the best bass fishing in the country and home to many state and national level tournaments.   
6. Lake Baccarac Lodge
Mexico
When you hear Mexico and bass fishing in the same sentence, you know there's something special in store.
Lake Baccarac Lodge is an all-inclusive bass fishing experience in Mexico offering a bass fishing vacation package on a 30,000-acre lake surrounded by mountains creating a picturesque setting fit for a king and queen. The lake boasts a Central American record 19.10-pound bass.   
Anglers enjoy world-class fishing and service, including daily maid service, freshly made breakfast, lunch, dinner, and laundry service.   
Most packages include transportation from the local airport (10 minutes) to the lodge, guide service, food, and lodging.   Guides are veterans of the lake treating guests to an international fishing experience that will make memories that last a lifetime.
7. Trails End Fishing Resort
Lorida, Florida
Lake Itokpoga is a lunker bass fishing heaven drawing bass fishermen from across the country to the nearly 27,000 acres of water teeming with largemouth Florida bass.  
This trophy bass fishing resort sits on 4 beautiful acres of land embodying old Florida.   At Trails End, anglers can choose from well-equipped cabins as well as RV sites.   Additionally, boat slips are available for the convenience of visiting anglers.   
The resort includes laundry facilities, wifi, a pool, a boat ramp, boat and kayak rentals, a gas pump for refueling, and bait and tackle supplies.   
This small, quaint lodge is budget-friendly and the perfect setting for a bass fishing vacation in Florida. Take advantage of the beautiful Florida weather at a lake known for producing trophy-size bass.
8. Live Oak Plantation 
Adel, Georgia
Live Oak Plantation is a unique bass fishing destination. The plantation is comprised of 10 privately managed lakes and ponds (from ¼ acre to over 100 acres).  
Experienced guides treat guests to a fishing experience full of fun and fishing. Bass fishing resorts in Georgia come in a wide variety of shapes and sizes, but Live Oak is the perfect fit for the most discriminating bass enthusiast.
Guided fishing trips include full-day fishing trips or overnight stays for longer visits. Overnight stays include rooms in the lodge and breakfast, lunch, and dinner. Guided river trips are also available.    
9. Roland Martin Marina and Resort
Clewiston, Florida
Lake Okeechobee is arguably, one of the most famous bass fishing destinations in the world. The resort and marina in Clewiston hold an equally large status named after bass fishing legend Roland Martin.  
The resort is a perfect host for the ultimate bass fishing vacation situated on Lake Okeechobee's shores, the United States' second-largest lake. The lake has hosted numerous professional bass fishing tournaments, including FLW, Major League Fishing, Bassmaster events, and numerous Bass Nation circuit events. 
The Roland Martin Marina and Resort offers the following:
Professional bass fishing guides are available for half and full-day trips.  
Boat rentals include pontoon boats, V bottoms, and bass boats.
Boat dock space as well as dry storage.
A boat sales center with new and used boats.
Marina with boat lifts and covered boat slips.
A restaurant and Tiki Bar & Grill are on site.
Repair facility and mechanics.
Resort swimming pools
Lodging at the resort is extensive, including condo rentals, hotel rooms, cabins, and a campground.
I've stayed at the resort and was VERY impressed. The condo that we stayed in was NOT your typical fishing shack. It was a luxury condo with updated furniture, plenty of room, beautiful wood floors, and a TON of space. It was a first-class experience.
Insider Tip
Short and sweet "secret" = throw THIS at Okeechobee (you can find it at Amazon). You won't regret it.
Lake Okeechobee and the Roland Martin Marina and Resort are a match made in bass fishing heaven. One visit here, and you'll be hooked for life!
10. Outdoor Sportsman's Lodge
Newton, Illinois
Outdoor Sportsman's Lodge is located on the shores of Newton Lake, a fishery covering almost 1,800 acres. The 12-acre compound was built in 2004 and has been featured in a wide number of media, including over 55 television shows and a large number of publications.
Lodging consists of 6 rustic style log cabins that can accompany up to 24 total visitors.   
Guide service is available on the lake as well as boat rentals.
All-inclusive packages are the best bet for a complete vacation experience and include the following:
3 nights of lodging
2 days of guided bass fishing
Meals are delivered by private room service
11. Highland Park Fish Camp and Campground
Deland, Florida
If you're looking for a true old Florida-style fish camp, Highland Park is the place to be.   Located in the small town of Deland, Florida, this fishing camp is the perfect setting for your fishing adventure.  
Nestled on over 30 acres of tree-filled land, Highland Park is in bass fishing heaven with easy access to the famous St. Johns River system known for trophy catches of Florida bass.   
Highland Park has everything you need for the ultimate bass fishing vacation.   They have 7 well-qualified bass fishing guides on staff who are U.S. Coast Guard certified and have significant experience on the river. Boats and all equipment are provided.
Fishermen may also bring their own boats and store them at the camp with 150 available wet and dry storage spaces available. Don't have a boat? No worries. Highland Park rents out a wide variety of boats, including bass boats and pontoons.  
The fish camp offers a variety of lodging options, including air-conditioned cabins, campsites, and RV campsites as well.  
Highland Park is close enough to Orlando, so you can enjoy great bass fishing while having access to major attractions like Walt Disney World, Sea World, and Epcot.
Grab a Carolina Rig if you're heading to the St. Johns River. You can find a great one here on Amazon.
12. Clear Lake Cottages and Marina
Clearlake, California
This destination is sure to impress, situated on the shores of Clear Lake in California.  
Clear Lake offers first-class accommodations for fishing enthusiasts, including updated cottages complete with modern kitchens.   According to clearlakecottagesandmarina.com
"Clear Lake Cottages & Marina is the premier resort location on the Clear Lake waterfront, as we have been rated #1 on TripAdvisor for five years in a row, and hold a 4.5/5 star rating and TripAdvisor's certificate of excellence."
Amenities include:
BBQ grills and picnic area.
Salt Water/Solar Heated Pool
Bass Boat, Kayak, and Pontoon Boat Rentals
Bass fishing is out of this world on this body of water, touted as the state's biggest natural lake. Bassmaster has also recognized the lake as one of the top bass fishing lakes in the country.  
13. Camp Mack, a Guy Harvey Lodge, Marina, and RV Resort
Lake Wales, FL
Camp Mack is a rustic setting located on the famous Kissimmee Chain of Lakes, approximately an hour from Orlando and all of the attractions that Orlando has to offer (Disney World, Sea World, and more).
I've spent a fair share of my time here for large bass tournaments, and the setup for fishing is perfect.   Camp Mack is one of the best bass fishing lodges in the U.S., offering great ramps and easy access to some of the best bass fishing in the state of Florida.   5 limit catches routinely hit the 20-30 pound mark, with many trophy catches coming off of the chain of lakes, which make up about 21,000 acres of prime bass fishing.
Accommodations include a lodge with special parking for trucks and boat trailers, as well as RV setups and private cabins.  
Gator Mack's Sports Bar serves up great food, and frequently hosts live bands fit for old Florida ambiance. There's also a small convenience-style store on site for snacks, drinks, and tackle needs.
Boat rentals (pontoon and kayak) are available, airboat rides, and professional bass guides to put you on the fish fast.   
Camp Mack also boasts plenty of other family-friendly features, including an outdoor kids' area, pool, and bike rentals.
Mat punching with big braid is common here and almost a rite of passage. Try 65-pound braid for snatching the big ones. (Amazon)
For more information on the Kissimmee Chain and a few other Florida bass fishing destination lakes, check out Bass Fishing Insider's article Where is the Best Bass Fishing in Florida? Top 21 Places.
 14. Mac's Point Lodge and Marina (formerly Wingates Lodge)
Bainbridge, Georgia
Lake Seminole is an enormous and productive fishery split by the state line of Florida and Georgia. The lake is an outstanding place to fish on vacations as it offers a ton of diversity as a result of three rivers that merge together to empty into the main lake basin. Each segment of this great body of water fishes a bit differently than the others making it a rewarding challenge that can be fished with many different strategies.  
I've spent a good amount of time on Lake Seminole for bass tournaments and practice and am familiar with Mac's Point. It's a great setup for fishing the lake and is well situated in the middle of the lake for easy access.
Mac's Point includes a great restaurant, ample ramp and parking space, and a convenience store for food, drink, and tackle needs that may come up during your stay. The setting is rustic, and the location is remote — perfect to escape the hectic pace of life.   
Accommodations include plenty of campsites and cabins.
Most notable is the history behind the lodge. According to Bassmaster,
"Lunker Lodge was also the site of one of the most important meetings in the sport's history when Wingate and Scott helped convince a former Georgia governor and the local manager of the U.S. Army Corps of Engineers that Lake Seminole should be the site of B.A.S.S.' first tournament. Visitors to Lunker Lodge can stand in the room where the meeting took place and eat one of the restaurant's rightfully famous hamburgers."
Insider Tip
Grab this before heading to Seminole. It wins a ton of tourneys there n the grass. Check it out on Amazon.
15. Black's Camp and Restaurant
Cross, South Carolina
Black's Camp is located on the beautiful shores of the Santee Cooper Lake system, providing visiting anglers the opportunity to spend time in a full-service atmosphere with ample bass fishing and top-notch amenities, including:
Bass fishing guides
Boat launch facilities for those with their own boat
Restaurant with Sunday afternoon buffet
Fuel station on site
Motel rooms, efficiency apartments, mobile homes, and campground
Convenience store with food, snacks, tackle, and more.
Fish Cleaning Service
Bass fishing on Santee Cooper is exceptional and draws anglers from across the country, including major professional bass circuit events like Fishing League Worldwide and Bassmaster Elite events.  
Bonus
Whippoorwill Sportsmanʹs Lodge – Quincy, Florida 
Although it couldn't include the Whippoorwill in our official list because it's missing dining options and boat rentals or guide service, the Lodge has a rich history of recreational and tournament bass fishing and deserves mention.
Lake Talquin is approximately 8,800 acres and offers anglers a mix of shoreline bass fishing and offshore and ledge fishing opportunities.  
Affectionately known as "the Whip," the Whippoorwill Sportsman's Lodge is located about 37 minutes West of Tallahassee, Florida's state capitol.  
I've been a part of fishing tournaments at the Whip and can attest to the unique country charm of the facilities run by some great people.  
Lodging is lakefront and includes convenient cabins, cottages, and RV sites. Although there is no on-site restaurant, there is a small store with various food, drink, snack options, bait, and tackle.  
Final Word
It's hard to go wrong when you embark on a vacation centered around bass fishing. Combining awesome bodies of water with incredible accommodations, food, boat rentals, and guide service, and you've got a winner of a trip planned.
As the old adage goes, "A bad day of fishing is better than the best day at work."
However, a bad day of fishing will be the last thing on your mind. Visit one of our top 15 bass fishing vacation locations, and you'll have a great stay full of amazing memories.