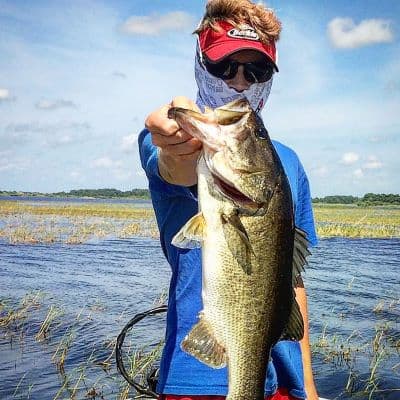 If you are a bass fishing fanatic, then you are well aware of Florida's draw on bass fishermen from around the world. Florida is world-renowned for bass fishing with plentiful ponds, small lakes, large lakes, rivers, and mega lakes known for holding tons of keeper and lunker-sized bass. With so many options, what part of Florida has the best bass fishing?
As a native of Orlando, I've fished most of Florida's big waters for bass as a recreational angler and tournament fisherman. I've compiled a list of the top 21 places for bass fishing in Florida.
1. St. Johns River for Big Bass
The St. Johns River is not a  lake but deserves a spot on our list. The St. Johns River has a long-standing history of bass fishing for both recreational and tournament anglers. In addition, this system has hosted numerous major professional bass fishing tournaments, including Bassmaster and FLW tournaments, to name a few, most of which launch out the Palatka City docks.  
From Paltaka, fishermen can fish a vast river system making up nearly 310 miles of waterways. The river is one of few in the entire country that flows North.
The St. Johns River stretches from Jacksonville all the way to Brevard County, making it the longest river in the state of Florida. The river also includes a number of massive lakes that are part of or connected to the river, including Lake Monroe, Lake Harney, Crescent Lake, and the granddaddy of them all, Lake George (featured below).
I've been fishing the river since childhood and have fished many tournaments there. It is truly one of my favorite places to be. This is one of the country's most active bodies of water and hosts many significant bass events throughout the year.   
Understanding the effect of current is essential to your success fishing the St. Johns River.   Bass can be found on shell bars, in pads, near ledges, fallen or flooded trees, grass, reeds, and more.  
Many large pro tournaments are scheduled at the river during spawning months when canals and Lake George are big players for catching big bass.
Because of the vast size of the river and diversity of cover and current, many techniques work well there, including throwing a Carolina rig, spinnerbaits, swim jigs, crankbaits, texas rig, and more. The sky's the limit for bait and lure options on the river. Check out this excellent swim jig option by Booyah on Amazon.
It is common for five fish limits to exceed 25 or 30 pounds. My son and I attended the Bassmaster Elite tournament on February 21, 2019. After fishing for a little over half a day, we watched the weigh-in, where Rick Clunn broke his own 4-day record with 98 pounds and 14 ounces of bass over four days of fishing. At 72, it was a stunning display of Clunn's fishing skill, endurance, and the big bass potential of the St. Johns River.  
Below is an awesome picture of us with Rick a few hours after the event ended. (We went fishing after the weigh-in for a few hours and caught him at the ramp cleaning up after everyone else had left the event. He was tired but gracious enough to spend time chatting and discussing the tournament with us.)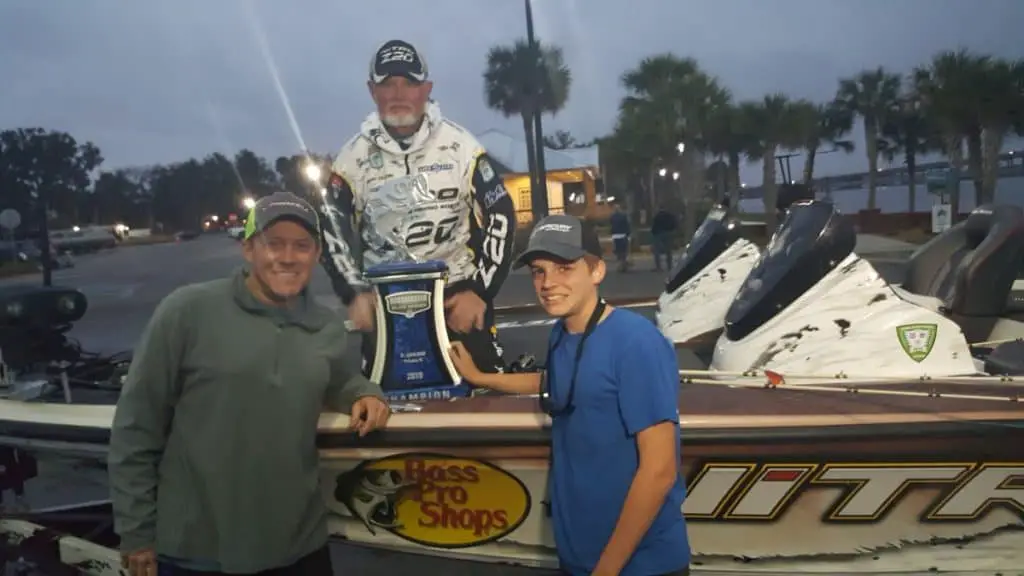 2. Harris Chain Bass Fishing
Located in Lake County, the Harris Chain boasts nine world-renowned lakes which cover approximately 76,000 acres. The lakes have hosted the biggest bass tournaments in the world, including Bassmaster and FLW events, and are home to some of the best freshwater fishing in Florida.
Vegetation is abundant and includes eelgrass, hydrilla, Kissimmee Grass, pads, bulrushes, and reeds. The lakes have a very large number of residential canals as well as long canals connecting each of the lakes. One lake (Lake Griffin) is accessible through a lock system from the other lakes but also has its own public ramps.
I've fished many tournaments here and can attest that this is a very healthy fishery loaded with quality bass.   Best tactics vary and depend on your target cover or bottom structure (mostly grass) and also relate to weather patterns.
Because of the sheer size of the system and the multitude of cover, grass, canals, and docks, fishing here seems endless and almost always fruitful.
3. Lake Okeechobee. Home of Lunker Bass.
Lake Okeechobee, affectionately known as the "Big O" by many bass fishermen, is a vast expanse of water and the largest lake in Florida, covering approximately 730 square miles. The lake is also recognized as the  8th largest freshwater lake in the United States. Many would argue that it is one of Florida's best bass fishing lakes.
Lake Okeechobee is known for producing mega bass limits year-round, but especially during the spawn.   Kissimmee grass, bulrush, reeds, eelgrass, and hydrilla can be found all over the lake. Although the lake is massive, the lake fishes smaller than its square mileage would indicate, with several key areas to focus on, including King's Bar, South Bay, Little Grassy, and the Monkey Box.
Public and private boat ramps and facilities can be found in virtually every corner of the lake. Two of the more popular launch sites and homes of national-level bass tournaments are Roland Martin Marina and Resort on the south end in Clewiston and  Scott Driver Park on the north end in Okeechobee.
The "Big O" is a Florida lake that bass fishermen dream of fishing, and for good reason. 
4. Lake Toho and the Kissimmee Chain
I group Lake Toho (West Lake Tohopekaliga) and the entire Kissimmee chain in the same category because they are part of the entire Kissimmee Chain of Lakes, made up of approximately 75,000 acres of prime bass fishing waters.  
Located in both Polk and Osceola counties, this massive, world-famous bass fishery is arguably, one of the best places to fish in the world for largemouth bass. A lock system connects Lake Toho to the rest of the chain of lakes. Note that this category focuses only on the lower Kissimmee Chain of lakes (Toho, Cypress, Hatchineha, Kissimmee, and Tiger). 
There are numerous ramps and access points, including private and public venues. Fish camp facilities include Camp Mack on the edge of Lake Kissimmee and Red's Fish Camp on Lake Toho. Among the numerous public facilities is the famous Big Toho Marina, where countless top-level pro, college, local, and high school events have been held.   
I've served as a boat captain in multiple high-level bass tournaments here and enjoy fishing here as it has been a consistent body of water for me as an angler and captain.  
There are large expanses of shoreline and mid-lake Kissimmee grass beds and hydrilla. Finding the right grass in these lakes is the key to catching good bass.   Both submerged grass and "topped out" or matted vegetation are vital areas to consider.
It is common to see five fish tournament limits in the 20-30 pound range.   This is one of the highest-quality places to fish n the state and should be at or near the top of the list for any bass fisherman.  
5. Lake Seminole. Largemouth Heaven.
Lake Seminole is located at the Florida-Georgia line and is a massive body of water (approximately 37,500 acres). The state line splits the lake into Florida and Georgia, so have both fishing licenses ready.  
This is another lake I've captained on. Be aware of significant sunken timber and floating logs when fishing the lake, so stick to the marked channels.  
Much of this lake is a grass lake, but other cover can also be found there. You'll find lily pad fields, hydrilla, hyacinths, and other vegetation in the lake. As summer approaches, matted vegetation is everywhere. Punching those mats can pay off big.
This is one of the state's most unique bodies of water as three rivers, each with unique characteristics, merge into the main lake area. Spring Creek is crystal clear, the Chattahoochee River is a muddier water river, and the Flint River is a mix between the other two. All three rivers produce abundant, large bass.
The lake has numerous access points, including multiple well-maintained public ramps. The biggest facility is the Earle May Boat Basin, home of many large high school, college, and professional events. The ramp is located in Bainbridge, GA, and is one of the best tournament venues I've seen in Florida (albeit Georgia) tournament trails.  
Additionally, there are privately owned ramps, such as Big Jim's and Wingates, which also offer lodging and restaurants.
6. Lake Talquin. Bass fishing near Tallahassee.
Lake Talquin is a sizeable 8,800-acre reservoir located West of Tallahassee. Talquin is best known for a large number of trees and stumps, but there is plenty of vegetation to fish as well, especially in the creeks and tributaries off of the main lake.   Talquin is deeper than most Florida lakes, with an average depth of 15 feet.   
Access is plentiful via three marinas and lodges on the lake with ramps and cabin rental facilities:  Ingram's Marina, Whippoorwill Sportsman Lodge, and Lake Talquin Lodge.
I've captained as part of the Florida Bass Nation High School tour on this lake and can attest to the fact that this place is fantastic. Although casting at shoreline targets can be effective, the lake is known for deeper underwater structure, including channels, ledges, and points, so good electronics can be helpful as you fish the lake. Although there are many great fishfinder options, I find Hummingbird's Helix units to be easy to use, and they offer pictures that are second to none. Check out a Helix unit on Amazon. Bed fishing in creeks and coves during the spawn can also be productive.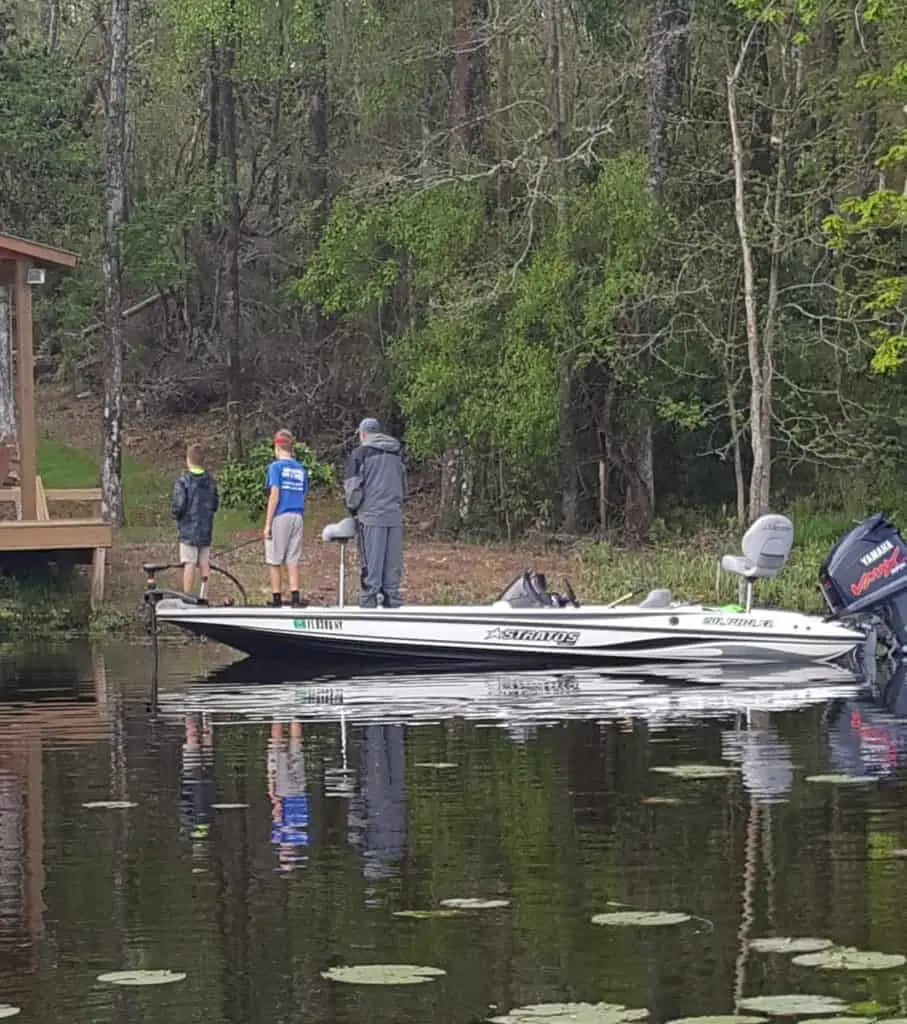 7. The Everglades. Areas 2 and 3.
The Everglades is famous for alligators, American Crocs, Boa constrictors, and BASS! In addition, both Largemouth and Peacock bass are found in the Everglades. The Everglades is made up predominantly of marsh areas totaling almost 1,000 square miles bordered by a system of canals.
Water levels impact fishing in the Glades.   The best fishing is when levels drop, causing the fish to congregate in canals. For some excellent canal fishing tips, check out the article on bass fishing in canals on bassfishinginsider.com by clicking here. 
Popular canals include the L-67A and L-35B canals.   Artificial baits and lures are required as live bait, or previously live bait is not permitted. According to nps.gov, 
"Bait: Live or dead fish (including minnows and shiners) or amphibians, and non-preserved fish eggs or roe, are prohibited. Digging for bait inside the park is not permitted."
Visit the Everglades to see an exotic environment like no other, with abundant wildlife and plenty of catchable bass.
8. Rodman Reservoir (Lake Ocklawaha).
Rodman Reservoir is, by far, one of my favorite places to fish in the state. I fondly remember camping on the banks with my Dad as we fished in weekend club tournaments.  
Rodman is located in Putnam County and can be accessed from the St. Johns River via a lock system or by one of the public ramps on the reservoir. The reservoir is almost 10,000 acres and is a vast expanse of somewhat open water covered in flooded timber and stumps.  
Vegetation can be extraordinarily thick and consist of hydrilla, eelgrass, hyacinth mats, and more.  
Fishing tactics are diverse and vary depending on the cover you're fishing. Punching mats, dragging a worm, throwing a square bill, or spinnerbait are all common strategies that pay off big. Bass love Junebug speed worms at Rodman. Find them here on Amazon. As in any Florida body of water, shiner fishing is the most productive live bait for catching largemouth bass.  
Rodman is loaded with plenty of great areas to fish. The stump field is home to many lunker bass catches and deserves attention when fishing at Rodman. Additionally, take a short boat up into the Ocklawaha River from the Kenwood Boat Ramp. We've had great success and caught many fish out of the river. In addition to the fish, the river is TRUE Florida, full of wildlife like gators, otters, birds, turtles, and more. There are very few places like this left anywhere in the state.
Boaters should pay particular attention when navigating the waters of Rodman. Floating timber is common. Also, be sure to only run in marked channel areas.
This fishery has earned LEGENDARY status among Florida bass fishermen and for great reason. This is a must-fish spot if you're visiting Florida for the best bass fishing.
A water drawdown occurs at Rodman every few years by draining much of the water to control vegetation and the overall habitat. Check out an awesome video of us at Rodman fishing at a special place at a special time .. the famous drawdown.
9. Butler Chain. Orlando Bass Fishing.
The Butler Chain… my home away from home. My Dad was a guide on this chain of lakes for years, and I've fished many tournaments here, so I would say that this place holds a special place in my heart.   
The chain is made up of 11 relatively smaller lakes making up approximately 4700 acres of water. Many people think there is only one boat ramp, but the lake system is accessible through 2 public boat ramps. R.D. Keene is an excellent ramp with plentiful parking. The ramp on Lake Down is nice but has little to no parking.  
The lakes are virtually inaccessible by shore unless you live on lakes or know someone that lives there.   A private sportsman club is on the lake, but membership is required.   
Water in the lakes is stunningly CLEAR, kept clean by a healthy dose of submerged and emergent grass.   Cypress trees are plentiful and found on many shorelines providing an excellent underwater habitat of cypress knees and roots for bass to hide in.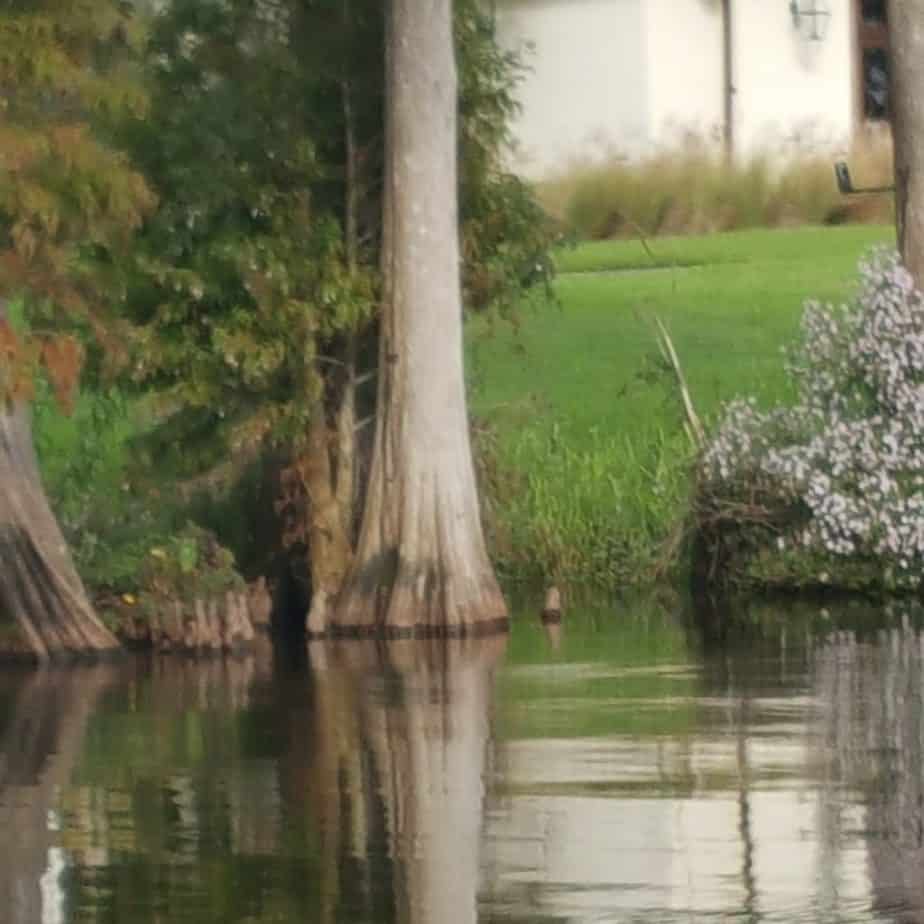 I've seen many trophy catches come out of this lake (I have a 10 out of here, and Dad had an 11) and know that the bass bite is real on the Butler Chain. Live Shiners are the choice of guides on the lake and work well fished with a bobber but even better free-lined.  
Like other Florida lakes, a wide variety of artificials work well, but my favorite and most successful at the chain is a Texas rig.   Spinnerbaits, topwater, rattletraps, swim jigs, and other typical Florida offerings will also do well here.
I recommend visiting this amazing set of lakes — it's one of the best in the state!
10. Tenoroc Fish Management Area
When looking for the best freshwater fishing in Florida, there are a number of lesser-known spots that deserve significant attention.
Tenoroc is an expansive body of water and an absolute GEM of a find. Phosphate pit fishing is well-known to avid bass fishermen in Florida, but most access to these pits is on private property. Not so with Tenoroc. At a nominal fee of $3, you can access 14 pits turned into lakes swarming with all kinds of fish, including largemouth bass. 
Florida Fish and Wildlife oversees the management of the Tenoroc area, including hiking trails, a shooting area, sporting clays, and a range for archery.
Tenoroc also features family-friendly areas for fishing from the shore, a kids-only lake, and 2 ADA-accessible lakes with wooden and asphalt paths for easier wheelchair access.
FWC has some unique management practices to keep the fish pressure minimal. They limit the number of boats (with motor restrictions) per day on each lake and only open the area from Friday through Monday. Additionally, the entire system is only catch and release. The result is active and feeding fish meaning that anglers will catch more fish and have more fun! 
11. Orange Lake and Lochloosa
Orange Lake and Lochloosea are located just south of Gainesville and North of Palatka. The two lakes cover almost 20,000 acres (Orange Lake is about 13,000 acres, while Lochloosa is approximately 6,000). Cross Creek connects the two lakes.
Both lakes feature water predominantly stained in color and loaded with various forms of vegetation, including lily pads and hydrilla.   Cypress trees are plentiful and provide an excellent habitat for bass to wait for prey.     
There are many great spots to fish in the lakes. 
The Eastern side of Lochloosa has been known to hold good bass throughout the year.   On the West side of the lake, you'll see an area of cypress trees mixed with grass. This area deserves attention as well.
In Orange Lake,  Cane Hammock, located on the Eastern shore, is a marshy point where many bass fishing anglers love to hunker down. Close to Cane Hammock is Pee Gee Run, a large pool of water also worth fishing. Fishing the boat lanes of Pee Gee can be productive for large numbers of bass. In the Southwest corner of Orange Lake is the McIntosh Area, well known by locals as a great spot to land good bass.
Facilities at the lake are plentiful. You'll find a convenience store on Orange Lake, a restaurant, and a great area for camping. Marjorie Rawling Park has great boat ramps, including spots to picnic and ample parking facilities. Additionally, there are a few great fish camps located on the lakes that are worth visiting.
12. Lake Istokpoga Bass Fishing.
Lake Istokpoga is approximately  27,000 acres in Highlands County near Lake Placid, FL. The lake is known as a shallow water fishery with most max depths near 8 feet.   The Lake fishes well year-round because of its location in the state where the weather stays relatively warm throughout the year.  
There are multiple points of public access, including four public boat ramps.   Several creeks are part of the lake:  Arbuckle, Istokpoga, and Josephine. The lake also features two islands:  Big Island and Bumblebee Island. Additionally, several great marinas are on the lake, including Henerson's Fish Camp, Trails End, and Cypress Isle.
Vegetation is plentiful and includes bullrush, eelgrass, Kissimmee grass, and hydrilla. Flipping and punching thick cover can pay off in big ways, as can throwing topwater almost all year round.   If you're looking for a great place to shiner fish, Istokpoga is the place to be.   
13. Clermont Chain Largemouth Bass Fishing
The Clermont Chain of Lakes is a lesser-known system of 11 lakes totaling about 7000 acres located just West of Orlando (approximately 45 minutes from downtown), 
Clermont is a beautiful city with rolling hills making you feel like you've left Florida.   The lakes feature several great public ramps with excellent parking.  
Cover at the chain includes Kissimmee grass, lily pads, reeds, and eelgrass, among others.   Water is typically tannic and stained. Cypress trees are plentiful, and fishing them can produce excellent results. There are also a number of marked fish attractors designed to serve as great habitats and hold fish year-round.  
This chain is often overlooked and left off many Florida bass fishing lake lists. However, it deserves to be on this list for good reason.  
14. Bass Fishing at the Stick Marsh.
Also known as Farm 13, the Stick Marsh covers approximately 6,500 acres of water on the East Coast of Central Florida in Indian River County.   This body of water is popular among bass enthusiasts and produces large numbers of trophy catch bass.  
Boaters should exercise caution while boating in the area because of significant hazards in the Stick Marsh, including both man-made risks as well as submerged stumps and floating timber.
The Stick Marsh is a unique fishery loaded with bass partly because of a regulation prohibiting the harvesting of largemouth bass.  
When fishing there, use electronics to look for underwater channels and ditches. Also, look for sunken brush or other attractors that may be remnants of old buildings and the like. Finally, roadbeds can be fish highways, so look out for them as well.  
Facilities are somewhat limited, with a small boat ramp, parking area, and basic restroom access.  
15. Lake George. Mega Bass Fishing.
Lake George is the second biggest lake in Florida at almost 46,000 acres.   It is located south of Palatka and North of Deland. Lake George is part of the St. Johns River system.
Popular fishing areas on the lake include the north end, where many major tournaments have been won, including the 2019 Bassmaster Elite. Other popular bass fishing spots on Lake George include the areas around Salt, Juniper, and Silver Glen Springs. 
Lake George is best known for bass fishing during the spawn, which begins as early as late January but is usually in February and typically lasts until the middle of May. Looking for bedding bass in the eelgrass can pay off in big ways. This area produces monster bass regularly at the right time of year.
Honorable Mention.  
Deciding on what part of Florida has the best bass fishing is far from easy, so I've included six honorable mention lakes to round out the Top 21.
16. Lake Panasoffkee is a tremendous but little-known lake located an hour north of Tampa. If you love fishing for bass in offshore grass and catching plenty of fish, this place is worth a visit.
17. Lake Jackson is Located north of Tallahassee and is known to be loaded with quality bass.
18. Walk in the Water This FWC-managed area is east of Lake Wales. It is nationally recognized for lunkers and large quantity single day catches.
19. Winter Haven Chain  This chain is located in Winter Haven near Orlando and is two separate chains comprised of a Total of 28 lakes. These are outstanding Smaller lakes connected by canals.
20. Lake Tarpon is between Tampa and the Gulf Coast of Florida. It is a favorite of legendary bass angler Doug Hannon. This fishery is well-known for its big bass.
21. Kingsley Lake  According to the Florida Fish and Wildlife Conservation Commission, "four of the top five heaviest bass documented in TrophyCatch have come from this old, north-Florida lake." Need we say more?!
Final Word
There are countless great bodies of water to fish in the sunshine state . . . so many that you almost can't go wrong so fish Florida, the land of many lakes, wildlife, natural beauty, year-round fishing, and big BASS!