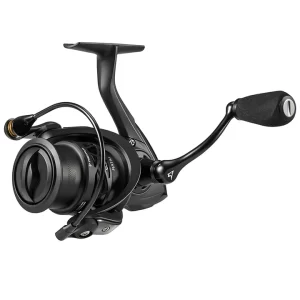 As someone who loves to spend time on the water, I know the importance of reliable and high-quality fishing equipment. I understand that a good spinning reel is essential to my fishing arsenal. With so many options available, the process of selecting the right reel can be overwhelming.   Choosing a reel with a smooth drag system, high-quality bearings, and a sturdy frame is essential. Also, finding a reel with a balanced weight to avoid fatigue during extended casting sessions is critical.
For all of the reasons above, I was excited to try out the Piscifun Carbon X spinning reel, a lightweight and high-performance reel that promises to be perfect for both freshwater and saltwater fishing. Although the company offers a variety of sizes, I chose the 2000 model since it is most appropriate for most of my fishing needs.
Piscifun Backstory
Piscifun is a fishing gear brand founded in 2013 with a vision to provide high-quality fishing gear at an affordable price. Since its inception, Piscifun has expanded its product line to include fishing rods and accessories, but the brand remains committed to its original mission of providing affordable and high-quality fishing reels. Piscifun reels have become popular among anglers, from beginners to seasoned veterans, who appreciate their performance and value.
Impressive Lightweight Design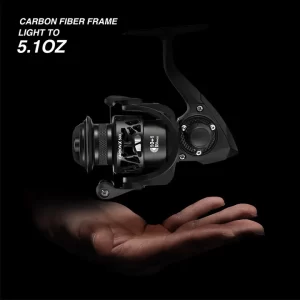 When I first picked up the reel, I was immediately impressed with its lightweight design. This reel is one of the lightest carbon spinning reels in its class, weighing in at just 5.7 ounces. As a result, it's an excellent choice for anglers who like to fish for extended periods without feeling weighed down by heavy gear.
Durable and Versatile
The reel's carbon fiber body and CNC-machined aluminum spool are notable features. These materials provide both strength and durability while maintaining a lightweight design. I also appreciate how this reel is available in several sizes to accommodate different fishing needs. This means anglers can choose the size that suits their fishing style. The sizes offered are  500, 1000, 2000, 3000, and 4000.
Smooth Performance
When it comes to performance, the Piscifun Carbon X spinning reel does not disappoint. Its smooth casting and accurate retrieval capabilities make it an excellent choice for catching a variety of fish species. In addition, the 10+1 shielded stainless ball bearings make this reel very smooth and are also corrosion-resistant, making it suitable for use in saltwater environments.
Powerful Drag System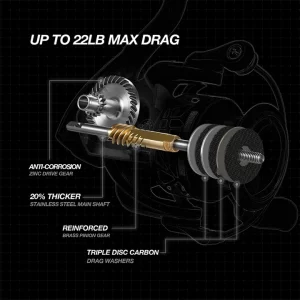 The drag system is one of the standout features of this reel. The carbon fiber drag system provides smooth and consistent drag pressure, making it easy to fight fish without worrying about the line snapping. With a maximum drag power of 33 pounds, this reel is powerful enough to handle even the most formidable adversaries. The secret to the reel's robust drag system is the three premium oversized carbon washers that create a smooth and consistent drag performance.
Comfortable Handle
Another feature that impressed me was the high-density EVA knob. The handle provides a comfortable grip and reduces fatigue while fishing. This is especially important for anglers who spend long hours on the water.
Efficient Gear Ratio
The 6.2:1 gear ratio of the Piscifun Carbon X spinning reel strikes a balance between speed and power. This ratio is ideal for various fishing situations, allowing anglers to quickly retrieve their catch without sacrificing power.
Affordable and Accessible
What really sets the Piscifun Carbon X spinning reel apart from other reels on the market is its affordability. Despite its exceptional performance and high-quality construction, the reel is competitively priced and offers excellent value for the price. The small investment makes it accessible to anglers of all skill levels looking for a high-quality spinning reel without unnecessarily spending a ton of money.
Given the quality of construction and top-notch features, I am extremely impressed with the price point of this reel.
The "Reel" Deal
Overall, I highly recommend the Piscifun Carbon X to anyone looking for a reliable and high-quality spinning reel. Its lightweight design, exceptional performance, and affordability make it an excellent choice for both beginner and experienced anglers alike.
Sometimes, I shy away from less expensive products that seem too good to be true. Not this time. The Piscifun Carbon X spinning reel is an excellent choice for anglers who want quality and performance without breaking the bank.
I'm looking forward to many enjoyable days of fishing with this reel! It's definitely a winner in my book.