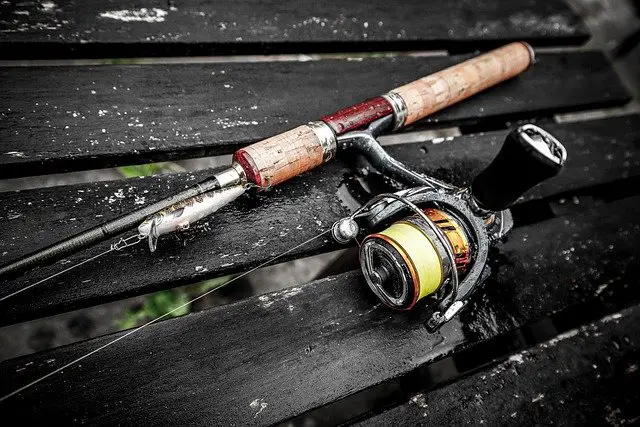 Buying a spinning reel for bass fishing seems pretty straight-forward — just find one that seems like the right size and price, grab it and go however, using the RIGHT reel is critical to your fishing success.  It's worth taking a little extra time to look at what's available and understand the ins and outs of the selection process.  Just like baitcasters, there are hundreds of spinning reel options.  
When looking for the best spinning reel for bass fishing, my first choice is the Abu Garcia Revo SX Spinning Reel available on Amazon.com.  (pictured above).  This spinning reel is one of the best for bass fishing because it features a lightweight carbon body design but is also remarkably durable.   The Revo SX is also built with major technical advancements including Abu Garcia's Slow Oscillation System, Everlast Ball System, and Rocket Spool Lip Design giving it distinct advantages when it comes to casting and smooth operation.   
I really like how Abu Garcia manufactured this reel with the perfect blend of high quality and affordability and would recommend it for a variety of bass fishing applications. Choosing a spinning reel can be a daunting task given the many different options and specifications available. Although this is my pick, there are several other quality brands worth discussing including a couple of small brands that may surprise you.
Why and When to use a Spinning Reel for Bass Fishing
Spinning reels are an important tool for an avid bass fisherman to use in special situations.   They're built for lighter tackle settings and are perfect for fishing finesse style baits like a wacky rig or drop shot.   
Many bass anglers opt for a spinning reel and finesse tactics when fishing bodies of water known for finicky fish.  Fish are typically more hesitant to bite in highly pressured areas or clear water settings where they are easily spooked.   
When many people think of bass fishing, they default to an image of someone fishing with a baitcaster.  However, experienced anglers understand the importance of using a spinning reel to catch bass in particular instances.  Pro bass fisherman do use spinning reels quite frequently.  In his book, Finesse Fishing with Mike Iaconell, Iaconelli presents a lengthy and well-presented case for using spinning reels for bass fishing including pro bass tournament tips and tricks.
Spinning reels are also known to be more user friendly than baitcasters and offer a drag system that is easier to adjust on the fly during a big fish fight.  Many anglers find the ease of use appealing and opt for them over baitcasters when possible.
How to Choose a Spinning Reel for Bass Fishing"  Factors to Consider 
Build and Construction of a Spinning Reel 
In order to maximize your time fishing and worry less about your fishing gear, it's important to have reels that can stand up to the pressure of rigorous usage.   Temperature, car and boat vibrations, normal fishing use, and other external factors can take their toll on a reel over time.  
Reels are typically made of aluminum or graphite while some newer reels sport a carbon body design.  Aluminum is known to last longer but weighs a bit more while graphite, conversely, weighs less but may not hold up as long.  Carbon body reels can offer the best of both worlds holding up well while offering comfort in the form of reasonable weight.
While weight may seem like a minor factor, it can prove to be a major one when it comes to YOUR ability to fish longer.  With heavier rods and reels, comes more fatigue.  When using a lighter reel, you are likely able to withstand longer periods of stress on your wrist, hand, and arms.  Choosing a lighter spinning reel can pay off in big ways.
Spinning Reel Drag Systems: Important Considerations
Drag is used to control the degree of resistance that your reel exerts as you fight a fish.  A good drag system allows you to fight a fish while seamlessly adjusting the drag to avoid breaking off a fish.  Some drag systems offer a smoother release of pressure as you fight a fish thus decreasing your chances of line breakage during the fight.   The best drag systems allow line to release without a delay.
The drag on a spinning reel is either located on the top of the reel (front drag system) or on the back of the reel (rear drag system).  Many bass fisherman contend that rear drag systems are easier to access during a fight.  However, I prefer front drag systems because they tend to last longer and weather the storm of more rigorous fishing.  
Anti-Reverse.  Say , "No" to Backward Reeling.
Back-reeling was a common technique in the past but is no longer very popular with avid anglers.  To put it succinctly, modern drag systems are considered to be a more effective method to help land fish during a tough fight.  Look for reels that do NOT reel backward.  
A reel with anti-rerverse stops the reverse motion of the handles and is a must for advanced bass fishing.
Why Spools are Important
Often overlooked, spools are a significant and important piece of the spinning reel puzzle.  The right (or wrong) spool can affect castability as well as smoothness. Similar to the housing of the actual reel, the spool is usually made of either graphite or aluminum.  Again, aluminum is usually heavier but longer-lasting while graphite weighs less but wears out faster.  
Special note  If you plan to fish with braid, consider looking for a reel that is ready to fish with braid meaning that you won't have to use backing when spooling a reel with braid which will save you a considerable amount of time.  These spools are "braid-ready".
The Importance of Line Capacity and Reel Size
Needless to say, when selecting a spinning reel, understanding what size spinning reel you need for bass fishing is of utmost importance.   Choosing the correct reel size is vital to your success on the water.   Line size is the number one factor to be considered for reel size selection.  Lighter lines warrant smaller reels while thicker diameter lines mean bigger reels. 
Bass fishing with spinning reels almost always means lighter lines.  8 and 10-pound test are usually the largest lines that you'll throw on a spinning reel when bass fishing.  Most manufacturers publish information about the line capacity of their reels.  Be sure to check their published information to reference and ensure that the reel in consideration is built to handle the line you plan on using.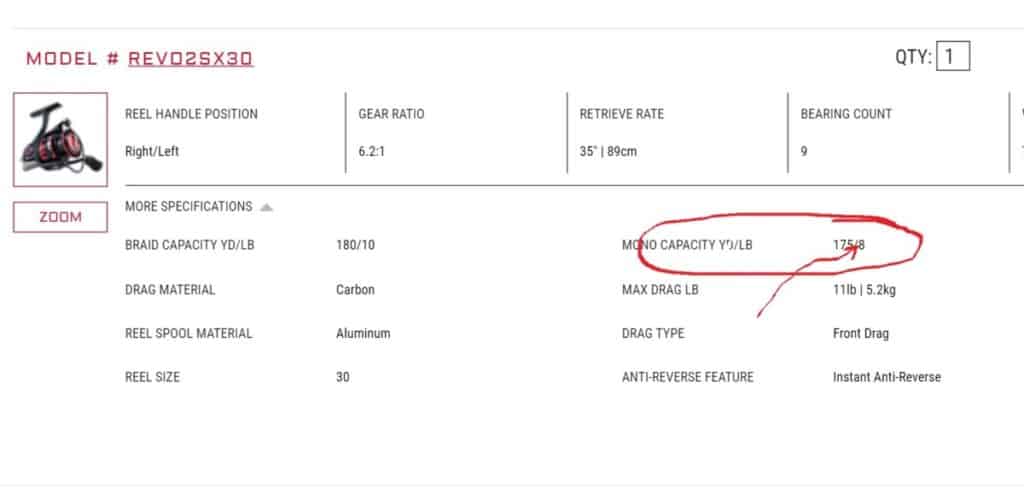 Insider Tip
Be sure to consider reel size when you are looking into your next reel purchase.  Check out our article, "Are Spinning Reels Good for Bass Fishing? Pro Secrets." for a great discussion about reel size, spinning reel fishing methods, and other important considerations about fishing with a spinning reel for bass. This article is an in-depth look at spinning reels and is a must-read before your next purchase.
Pay Close Attention to the Bearings
Like most fishing reels, spinning reels have ball bearings inside the reel housing to ensure smooth reeling and casting as well as stabilize inner components   As with baitcasters, it is widely accepted that more bearings mean better functionality and better user experience.
You'll notice an upgraded feel when using a reel with more bearings.  Reels with more than 4 or 5 bearings are preferable.  The number and quality of bearings is one of the biggest reel characteristics that impact the overall feel of a spinning reel.
Gear Ratio
Generally speaking, the gear ratio is used to describe the number of turns that a spool takes in relation to the number of times you turn the handle.   The higher the ratio, the more times the spool turns per handle turn.  Consequently, the higher the gear ratio, the faster you can reel in your line.
Although spinning reels come in a wide range of ratios, most spinning reels used for bass fishing come in some sort of variation of a 6:1 or 5:1 gear ratio.  The bait and specific tactic that you are using have a direct impact on the best gear ratio for a given situation.
Price
Clearly, price is one of the biggest factors to examine while researching for your next reel.  Lower end models can be as cheap as $30 or $40.  When looking at better quality, higher-end options, you could spend as much as $200 or $300.
For the occasional recreational angler, many of the lower-end models will do just fine.  If you are more active or a tournament bass fisherman, you'll do better, in the long run, opting for higher-end reels with better bearings and housing giving you a smoother feel and longer-lasting reel.
Which Brands to Consider When Looking for A Bass Spinning Reel
Abu Garcia (Features the Revo SX Spinning Reel)  Abu Garcia sets the standard when it comes to bass fishing gear.  They are an undisputed leader in terms of quality crafted reels and are preferred by many professional anglers.
Shimano Shimano reels are outstanding and carry a longstanding history of excellent reels.   Shimano continues to innovate and amaze with their designs and outstanding advancements in technology.
Favorite Fishing  Favorite Fishing is a rising brand in the bass fishing world and deserves mention.  They offer a long line of bass fishing spinning reels built to last and are continuing to impress seasoned bass fishermen.   They're known for their diverse line of reels with options suitable for any tactic.  
Enigma Enigma is a smaller company based out of Florida known for its attention to detail and high-performance reels.   Enigma takes input from professional anglers like Aaron Martens and Jesse Tacaronte to create one-of-a-kind products built to impress. Their unique $39 dollar lifetime replacement policy warrants serious consideration.  
Daiwa Daiwa reels have set industry standards for decades and continue to impress with their modern-day offerings.   They emphasize lightweight reels that are built to last while including standard-setting technology.
Lews  Lews reels feature solid designs at affordable price points while delivering consistent quality.   Their economical price points and reputation for durability make them an appealing alternative to other high-priced brands.
Piscifun  Piscifun is relatively new to the fishing reel market (2013) but the company delivers a great product backed by a devotion to customer satisfaction.   They build top-notch products that perform well without breaking the bank.
Why I like the Revo SX
When you're looking for the best spinning reel for bass for the money, the Abu Garcia Revo SX is my personal choice for a variety of reasons.   Abu Garcia is consistently on the cutting edge of technology and uses heavy research and development to continue to produce excellent products.
Although there are many spinning reels available to choose from, the Revo SX comes with some distinct features making it a standout for bass fishing enthusiasts.   The reel includes a number of high tech features worth noting.  The Rocket Spool Lip Design, Everlast Ball System, and Slow Oscillation System combine to make a casting experience that is seemingly unmatched by competitors.   Anglers can use any line on the spool including braid without the need for backing which makes setup time a breeze.   This reel features 9 bearings which means smooth casting and retrieval.   
The reel is extremely lightweight because of its carbon body design and gearbox composed of aluminum.  Abu Garcia has built this reel to last and stand up to the rigors of frequent, hard fishing.  
The Revo SX is the perfect choice for almost any spinning reel need including finesse fishing or any other light light technique.   
Higher-End Spinning Reel Options.
If you're a tournament angler or are ready to upgrade to the next level for your spinning gear, check out a couple of well-known and reputable brands that offer high-end reels that are sure to impress.
The Daiwa Ballistic LT Spinning Reel  is renowned for its ultralightweight feel but still maintains toughness backed by the Daiwa name.  Daiwa touts this reel as, "Light but Tough" and backs it up by utilizing high tech design features.   The Zaion body coupled with the aluminum alloy Digigear are two big reasons that this reel stands out as a favorite of many professional anglers.   The reel also has a uniquely engineered design to prevent water intrusion by using the Magseal.  
Another next-level, higher-end option is Shimano Stradic Ci4.  With off the chart ratings on Amazon and other major selling outlets, this reel is SURE to impress.  Shimano never ceases to amaze and uses its acclaimed MicroModule Gear II to deliver a powerful and smooth fishing reel with a solid build.  This reel is incredibly light but equally strong.   Shimano includes its X-Protect to shield the reel from water incursion providing a seal that gives the reel one of the longest lives on the market.  
Final Word
Spinning reels are a mainstay of any bass angler who employs finesse techniques and other specialized tactics for catching bass.   There is a ton of technology and special features in modern bass fishing reels.  After doing a little research and considering your price point,  you're now ready to grab a reel to start fishing AND catching!