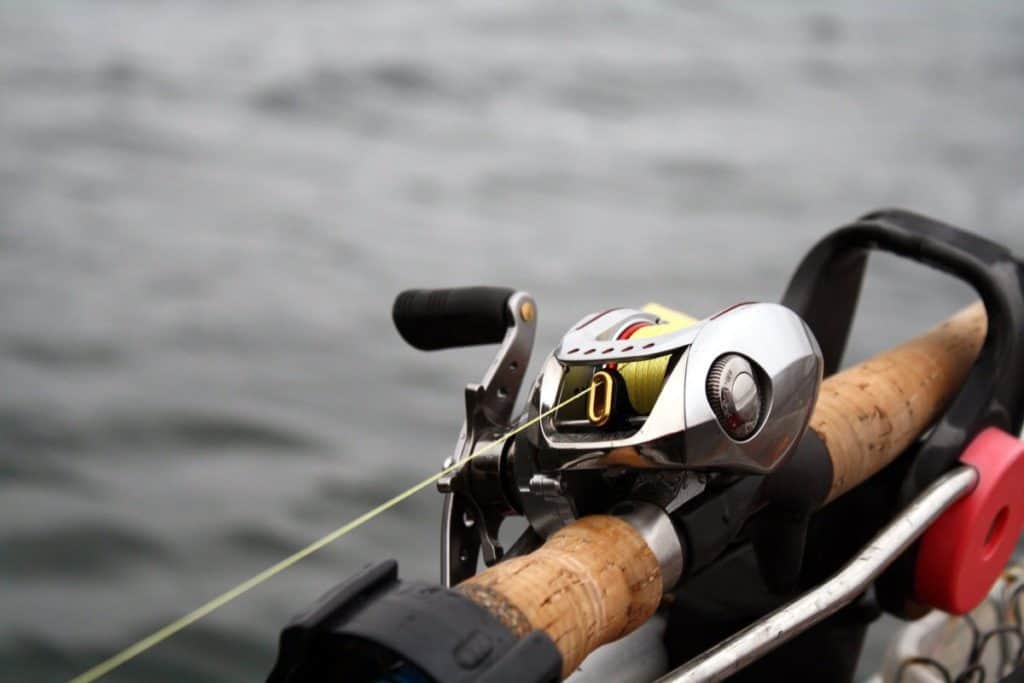 When deciding on the best baitcaster for bass fishing, several important factors must be considered. Before rushing off to buy your baitcasting reel, consider the options available to make a wise decision.
After considering, researching, and trying a number of major and minor brands, my favorite reel is the Abu Garcia Revo X (click here to check the current price on Amazon) for bass fishing.   This reel offers a premium feel at a reasonable price. It has several high-end features, including an upgraded drag system offering ultra-smooth performance and Duragear brass gear built to last longer. I notice significantly better casting distance and smoother retrieval with this reel. 
Perhaps the most critical insight from this article is the notion of price in relation to quality.   Most lower-priced reels simply don't live up to their end of the deal. I've noticed that cheaper reels (under $65) may perform well initially but break or fail mechanically and don't last long enough. Manufacturers use inferior materials during assembly, and it often shows. It's not necessary, by any means, to purchase the most expensive models, but spending a little more on a reel can pay off in terms of quality and longevity.  
Why are Baitcasters Good for Bass Fishing? (3  Reasons)
Baitcasters are suitable for bass fishing for a variety of reasons, including:
Casting Distance  Baitcasters typically cast further than their spinning reel counterpart and don't suffer from the dreaded line twist.   
Heavy Duty  Baitcasters can handle heavier applications (lures) and heavier line more easily than spinning reels. Baitcasting reels also typically offer more powerful retrieves.  
Accuracy  Anglers can control the stopping point of a cast more efficiently with a baitcaster by using their thumb to stop the release of line during a cast in a split second, consequently stopping the flight of the lure. Unfortunately, spinning reels do not have a way to stop a cast as accurately.
Don't get me wrong, spinning reels have their place, but for all of the reasons above, baitcasters should hold a special and significant place in your bass fishing arsenal.
How to Choose the Best Baitcaster for Bass Fishing
You want a baticaster suitable for as many applications as possible, but what are some critical things you should look for when buying a baitcasting reel for bass fishing? Below, you'll find essential items to include on your hit list when considering your next reel purchase:
Gear Ratio
Gear ratio relates to the "pickup" capacity of a reel. Gear ratios are usually expressed with three numbers, hence the term "ratio." Example gear ratios include 5:4:1, 6:4:1, 7:3:1, and so on. The numbers describe the number of turns the spool makes relative to each turn of the handle.   For example, with a 7:3:1 reel, the spool will turn 7.3 times each time you turn the handle. A higher gear ratio means a reel will pick up the line faster.  
One might think that a higher gear ratio is always the best way to go. Not so fast. Higher gear ratios are suitable for particular styles of fishing. For example, when fishing in heavier cover such as grass or other brush, a 7:3:1 reel may be in order, allowing you to get a fish out of the cover faster once hooked. 
A lower gear ratio like a 5:4:1 may be for working something like a crankbait allowing you to work the bait back more methodically. Additionally, lower gear ratios may retrieve line more slowly but offer more torque for reeling in a larger catch.  
Handle Size
Check out the handle size of your next potential reel before you finalize your decision.   Some reels offer a shorter handle suitable for smaller baits that retrieve with less resistance. However, when using a bigger bait like a large crankbait or spinnerbait or when fishing heavy cover, using a more oversized handle may be a better option because you are taking advantage of better leverage to reel your bait and fish back in, leading to better efficiency and less effort exerted.
Profile  
There are two overall profiles for baitcasting reels. Low-profile reels are typically smaller in size and sit tighter to the rod. Round profile reels are built to hold more line and are usually used for larger baits. Almost all bass fishing is done with a low-profile baitcaster reel, especially when artificial lures are used. Round profiles are often used with live bait fishing.
Braking System
Baitcasting reels have a mechanism that slows down the spool during a cast. The brake system is designed to help you avoid backlashes, also known as bird nests.   
Braking systems are important for maintaining your sanity while fishing but are not a substitute for properly using your thumb to control the cast as the bait approaches the water.  
The tension knob is also a valuable tool on a baitcaster reel and adjusts the speed at which your line leaves your spool.   Lighter lures are best thrown will less spool tension, while heavier lures work best using more tension.   
Most higher-quality, low-profile bass fishing reels come with adjustable magnetic brakes. On the side of a reel is a small dial that may be adjusted to help control your cast. Check to make sure that your reel has such a system. In addition, some reels have an upgraded method for braking called a dual brake system. Suffice it to say that you should carefully check to ensure a sound braking system is included on your next reel.  
Reel Composition
Most baitcasters are made from graphite or aluminum. Higher-end reels are usually made from aluminum and withstand the rigors of time. However, they are usually more expensive than their graphite counterpart.
Ball Bearings
As I've browsed the internet or the shelves of tackle stores, I've noticed that almost all manufacturers like to tout ball bearings as a selling point for their particular reel. However, it's important to note that having more ball bearings doesn't always translate to higher quality.   Just because a reel sports ten ball bearings doesn't mean it is a higher-quality reel. 
Be sure to check out all of the characteristics of the bearings to make sure that those bearings are of a higher quality. Also, according to anglingauthority.com, you may want to check that your new reel has some sort of shielded bearings (see their article here).
Price
Reels come in various prices ranging from thirty to several hundred dollars. Most lower-end reels may be ok for occasional use, but a sturdier reel is in order for more active or tournament fishermen. I've had reels on both ends of the spectrum and can attest that a higher-quality reel is worth the investment if you are busy on the water.
Additionally, better reels handle bigger line in a way that a lesser-quality reel cannot. Heavy braid can tear up a cheap reel in a hurry. If you plan on fishing with braid, carefully consider your next purchase.
Top Baitcaster Reel Bands to Consider
Lew's
 Lew's offers a complete line of reels known for their excellent casting ability as a result of adjustable centrifugal brakes, a tension knob with audible clicks, and shielded ball bearings for added quality.
Abu Garcia  (Features the Revo X mentioned above).
Abu Garcia is a staple brand in the fishing industry, offering a complete line with a reputation of quality workmanship. In addition, their reels are versatile and reliable, making them an ideal choice for both recreational and tournament anglers.
Daiwa
Daiwa is a veteran fishing equipment manufacturer offering their acclaimed Tatula series of reels and many other baitcasting options.   Their reels provide comfort and control while packing a powerful punch when casting.  
Okuma
Okuma reels feature low-profile reels equipped with aluminum gears made to last. They offer various reels manufactured with better materials and advanced technology.
Enigma  
When professional bass fisherman Jesse Tacaronte launched Enigma Reels, he started a company that offers quality reels at an affordable price. Enigma is a smaller company with outstanding customer support. They offer a lifetime replacement policy. If you break your reel for any reason, they'll replace it at a reasonable replacement fee of $39.97. 
13 Fishing 
With innovative product design features on some reels like " no bearings" and "arrowhead" line guides, 13 Fishing offers reels set apart from competitors via their creative technology.    This is a company making significant headway into the vast fishing reel market.
Shimano
I recommend the Shimano SLX as another reasonably priced, quality reel. It is a close second to the Revo X because it is priced slightly higher. Shimano is widely regarded as one of the best manufacturers of baitcasters in the market and is a favorite of many professional bass anglers.   They have a long-standing reputation for producing high-quality reels that stand the test of time.
Quantum
Quantum reels are self-acclaimed to be smooth performing hardworking and assert that they have the longest reel warranty in fishing.   The Quantum name is well-recognized in the bass fishing world.
Bass Pro
Bass Pro Shops offers its in-house line of reels backed by the Bass Pro name and delivers a great product at an affordable price. 
Why I like the Revo X
I love the PRICE. The Revo X is a higher-quality reel manufactured by a tried and tested manufacturer with a long-standing history of quality products. Abu Garcia reels stand the test of time and withstand heavy use.
Compared to entry-level reels, the Revo X offers some notable differences.   The reel comes with seven stainless steel ball bearings which means great casting distance and an ultra-smooth retrieve. The handle's unique design is super comfortable and is made to feel nice and compact, making all-day use easier on the hand. The Carbon Matrix hybrid drag system means you'll have a reliable and consistent design, so you don't have to worry when fighting big fish, allowing you to adjust the drag mid-fight very easily. Furthermore, the frame is one of the best in the industry and can handle heavy use while providing a nice, light, comfortable feel.   
On the downside, I will say that the reel does take some getting used to, especially when adjusting the tension knob in conjunction with the brake system. However, you can tweak it to your liking after a short learning curve.
I use the Revo X reels as my go-to option on many of my rods because they are available at a great price point and have proven to be very reliable and versatile – ready to be used in a variety of settings. In addition, I can personally vouch for these reels because I have used them extensively.  
High Price Reels vs. Low Price. What's the difference?
As discussed, there are hundreds of reel options with varying price points. On the higher end of the spectrum, you'll typically find reels with more ball bearings which usually translates into better castability and a smoother feeling retrieve. Additionally,  more expensive reels generally are made of better-quality materials (like alloy or aluminum). As a result, they'll last longer and handle tougher fishing conditions like heavier line usage and fishing in heavy cover or with bigger baits.  
Finally, higher-end reels often come in much higher gear ratios suitable for specific fishing techniques.
Higher-End Options
If you're considering a more expensive alternative, I lean toward a couple of industry stalwarts.
The Revo Rocket by Abu Garcia is a step above many competitors offering a 10:1 gear ratio, alloy construction, and ten stainless steel ball bearings, to name a few of its outstanding qualities. If you are considering a higher (albeit more expensive) baitcasting reel option for bass fishing, check out the Revo Rocket here on Amazon with 5-star reviews.
The Shimano Curado DC Low Profile reel is another option more suitable for an angler looking for a lower gear ratio reel.   With its unique Digital Controlled Braking System, this reel uses a microcomputer to help to eliminate backlashes.   I recommend this reel as an outstanding option if you're searching for a higher-quality baitcasting reel for bass fishing.
Final Word
There are many great options for baitcasters on the market.   If you are only fishing occasionally, lower-priced reels may be fine, but many bass fishermen who initially opt for a lower-priced reel soon find out that they wear out quickly. 
If you are more active with your bass fishing, I recommend looking at some reels with higher-quality components. By investing a little more in your fishing gear, you'll benefit by having a better user experience with a reel that lasts you longer and costs less in the end.